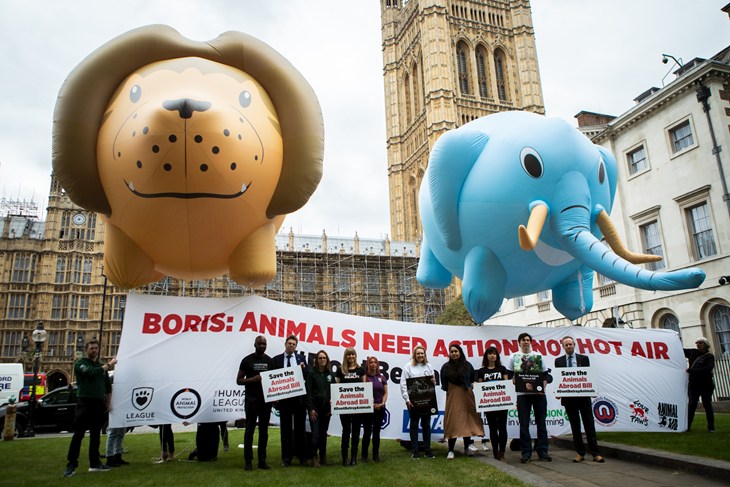 This week, giant balloons floated in the sky above Parliament, and adverts were published in national and political news outlets, to call on the Prime Minister to keep his promises and for the Government to urgently deliver on both the Kept Animals and Animals Abroad Bills. 
Don't betray animals
The Bills would help stop millions of animals suffering for foie gras and fur fashion, or being used for elephant ride tourism, subjected to gruelling live export journeys, slaughtered by trophy hunters and more. But, despite a recent poll revealing that 72% of the British public want the Government to pass more laws to protect animals, we are still waiting for this important legislation.
That's why we have joined forces other animal protection groups – including Animal Aid, Animal Equality UK, the Born Free Foundation, Four Paws, Humane Society International/UK, the Humane League UK, the League Against Cruel Sports, the RSPCA, and World Animal Protection – to amplify our call on the Government not to betray animals.
Action needed, not hot air
Throughout this week, adverts have run in a range of national and political media outlets, both in print and online, helping our message reach MPs and policy makers.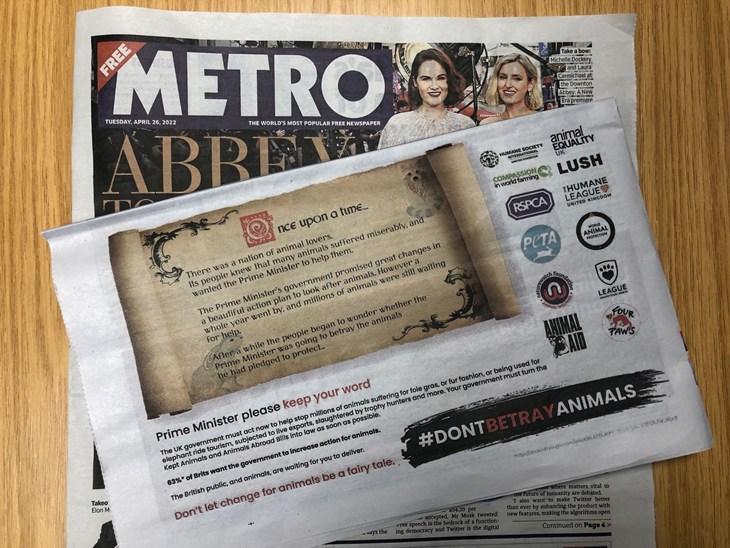 And on Wednesday (27th April), we joined other NGOs in Westminster, as two enormous balloons, shaped like an elephant and a lion, floated above Parliament to send a clear message to Boris Johnson that animals need action, not hot air.
A clear message
"The Government has repeatedly promised to deliver the Kept Animals and Animals Abroad Bills," said James West, our Senior Policy Manager. "Animal welfare matters to the British public and this week of action has sent a clear message to Boris Johnson: don't betray animals. Farmed animals should have a life worth living, and the UK Government must protect them by keeping its promises on animal welfare. We will keep campaigning until both these Bills become law."
 Add your voice
Please email Boris Johnson today and demand he delivers on his animal welfare commitments.