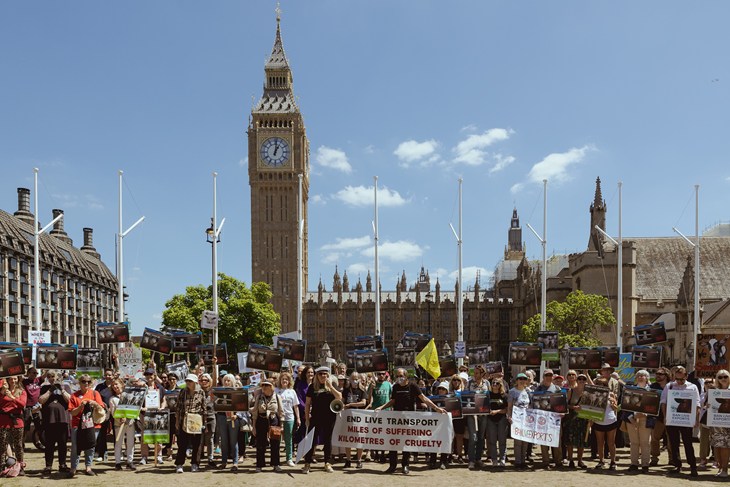 Today (14th June), on Ban Live Exports: International Awareness Day, several of our wonderful high-profile advocates including Evanna Lynch, Peter Egan, Emma Milne and Marc Abraham OBE, joined over 200 supporters, MPs and likeminded organisations outside the Houses of Parliament, to protest against the cruel trade. The rally highlighted the gruelling journeys which farm animals have to endure, when they are exported overseas from Britain for slaughter or fattening. 
Despite the UK Government promising to end cruel live exports for slaughter and fattening, the Animal Welfare (Kept Animals) Bill – which when it becomes law, will ban the trade from Britain – has been extremely slow to progress through parliament. 
'Hells Tours'
To help demonstrate the true horror of live animal exports, we have launched a hard-hitting new video featuring a spoof travel agency – 'Hell Tours' – advert mocking the UK Government's failure to protect the welfare of farmed animals during live export journeys.
In line with the travel theme, a 'giant suitcase' took centre stage at the rally which members of the public added signed 'luggage tags' to, calling on the UK Government to honour its manifesto pledge and make live exports from Great Britain illegal.
Strong support
Actor Peter Egan, and TV vets Marc Abraham OBE and Emma Milne, spoke out against live animal exports at the protest, calling on the Government to deliver on its promises without further delay. Daniel Zeichner, Shadow Minister (Environment, Food and Rural Affairs) and Theresa Villiers MP (Conservative) also spoke in support for a ban.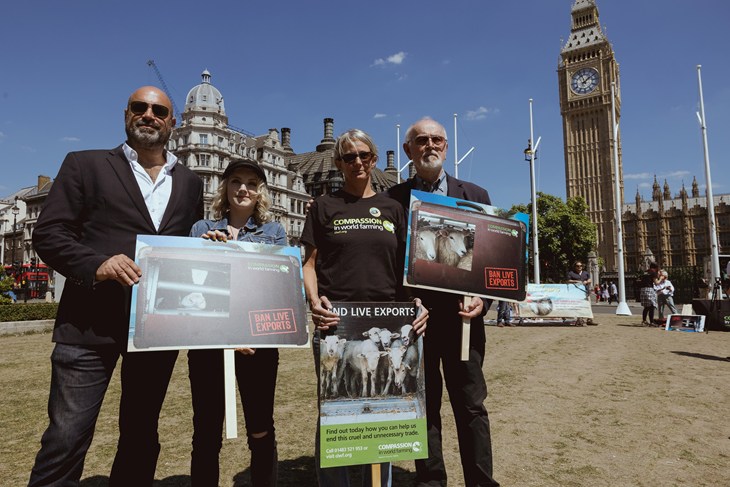 Many of our other celebrity supporters also backed the day of action, including TV vet James Greenwood, and actors Mike Beckingham and Kate Ford. Dragons' Den star and Compassion Patron, Deborah Meaden, said: "The awful suffering endured by vulnerable animals transported over long distances, is truly horrific and completely unnecessary. On Ban Live Exports: International Awareness Day, and every day, I'm proud to support Compassion in World Farming as the driving force pushing for an end to live exports for slaughter and fattening from Britain.
"It's time for the UK Government to finally take action and deliver on its promise. It's time to Ban Live Exports!"
Our dedicated Patron and Harry Potter star, Evanna Lynch, who attended the event, added: "The UK Government has promised to ban the export of farm animals from the UK, but they simply aren't delivering. That's why it's vital we demand an end to live exports on Ban Live Exports: International Awareness Day. We simply will not tolerate this cruelty any longer."
Horrific cruelty
The disastrous news over the weekend that 15,000 sheep drowned in a port in Sudan during an export, reinforces the urgent need for action to be taken to Ban Live Exports both here in the UK  and across the globe.
"It is absolutely appalling that after 50 years of relentless campaigning to Ban Live Exports, we are still having to demonstrate our opposition to this horrific cruelty," said Sarah Moyes, our Senior UK Campaigns Manager. "British animals are forced to endure overcrowding, pain, stress, exhaustion and dehydration when exported abroad. It's time for the Government to deliver on their promise and end this inhumane trade once and for all."  
Take action 
Even if you couldn't attend our protest, you can still take action. Tell the Government put a stop to this cruel and unnecessary trade. You can also make a donation today and help us make the final push to ban live exports from the UK once and for all.