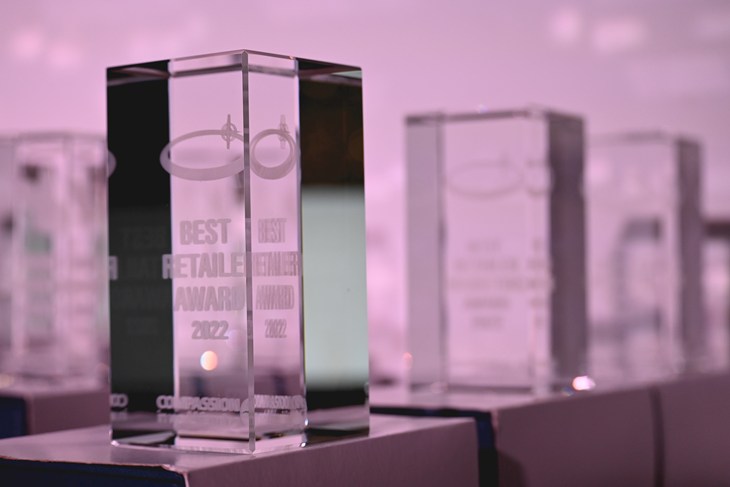 The UK and international winners of this year's Good Farm Animal Welfare Awards (GFAWAs) were revealed at a prestigious ceremony in London earlier today (15th June), with some of Britain's best-known companies recognised for their innovative work in the field of farm animal welfare and sustainable food production.
Inspiring speakers
The event was hosted by environmental journalist Lucy Siegle and featured a keynote speech by Nick Jacobs from IPES-Food, who talked about various approaches to balance the environmental and animal welfare impacts within a sustainable food system.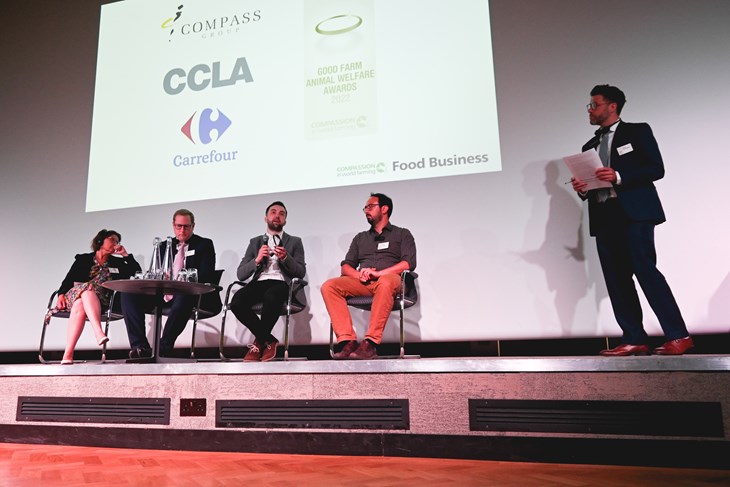 A panel discussion, facilitated by presenter and vet James Greenwood, included representatives from Compass Group and Carrefour who all talked about what they are doing in the future food space.
Meaningful improvements
Three of the UK's marketing-leading companies in food and retail received Compassion's GFAWAs for showing their commitment to making genuine and meaningful improvements to the lives of farmed animals, and the sustainability of their supply chains. 
And the winners are…
The Best Retailer Innovation Award went to Waitrose  for developing and implementing the first Qualitative Behavioural Assessment App to measure the emotional wellbeing of animals in the drive to continually improve their quality of life. Their constant aspiration to be the best and to do what is right for animals and for their customers makes them true leaders in farm animal welfare and this year they also achieved overall Best Retailer Award for the fourth consecutive year.
Compass Group (UK & Ireland) were awarded the first full Planet Friendly Award, achieving a GOLD level for a 2025 commitment to reduce its animal sourced proteins by 25%, with a further pledge that 70% of their top five food categories will be sourced from regenerative agriculture by 2030. They are truly leading the way, tackling head on the issues of farm animal welfare, protein diversification and a shift towards regenerative agriculture. 
Domino's EU received this year's prestigious Cage Free Award in recognition of the work they are doing to end the use of all cages across all species in their European supply chain.
In total, there were 27 Awards this year spanning the globe, and which are set to benefit over 138 million animals each year!
Genuine leadership and motivation
"This year's Awards have been truly inspirational with companies showing genuine leadership and motivation at a time when the global food industry has been confronted with serious issues following the pandemic, and now the war in Ukraine," said Dr Tracey Jones, Global Director of Food Business.
"The continued progress for animal welfare is heartening, whilst the ongoing work in the future food space is encouraging and signals that the food industry is ready to tackle one of the biggest challenges of our time – how to build a humane, sustainable, and resilient food system for all."
See the full list of winners and find out more about our Food Business work.