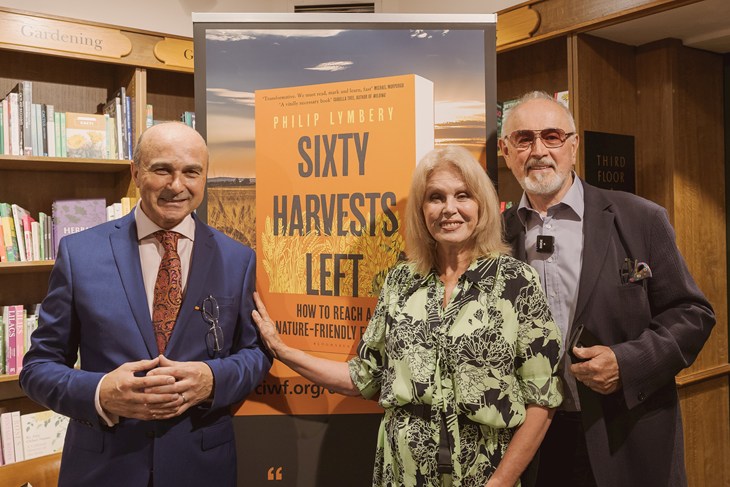 Yesterday (17th August), Joanna Lumley officially launched our Global CEO, Philip Lymbery's third book, Sixty Harvests Left: How to Reach a Nature-Friendly Future, at Hatchards Bookshop in Piccadilly, London.
A chilling warning
The event, attended by several of high-profile supporters and influential journalists, celebrated the powerful new book which follows the successful release of Farmageddon and Dead Zone.
Sixty Harvests Left describes how, far from being 'a necessary evil', factory farming is threatening the very survival of our planet and that ending the industrialisation of the countryside is key to saving our children's future.
Everything is linked together
Our Patron, Dame Joanna Lumley, who hosted last night's launch, said: "As long as I can remember I've seen everything linked together, that is people, and animals and places and time and how we eat and the seasons... and no part of it is more of less important than the other.
"I was overwhelmed when I read this book, because it addresses all the horrors that keep me awake at night… but in Philip's book it shows that if we follow the simple, and sometimes complicated, and sometimes challenging rules, we can get out of this."
The dark side of food production
The book shines a light on the dark side of food production and highlights the reality of our global food system. It confronts 'Big Ag', whose mega-farms, chemicals and animal cages are sweeping across the countryside around the world, and jeopardising the very air we breathe, the water we drink, the food we eat and the nature we treasure.
As highlighted in The Guardian, new data collated for the book found that there are now more than 1,000 US-style mega-farms in England, Wales and Northern Ireland, with some holding as many as a million animals. These large-scale intensive units prevent animals from expressing their natural behaviours.
Hope for the future
But Sixty Harvest Left also offers solutions, detailing the pioneers who are battling to bring landscapes back to life, in a world where wildlife, hens, pigs and people thrive by protecting the very thing that our civilisation is built on: soil.
"Sixty Harvests Left is a book about urgency, but also hope," said Philip at the launch event. "The solutions are just waiting for us to take them down and save ourselves."
Get your copy now
Sixty Harvests Left is available to buy online or instore from most bookshops. Royalties from the book will help us to continue our fight against factory farming.