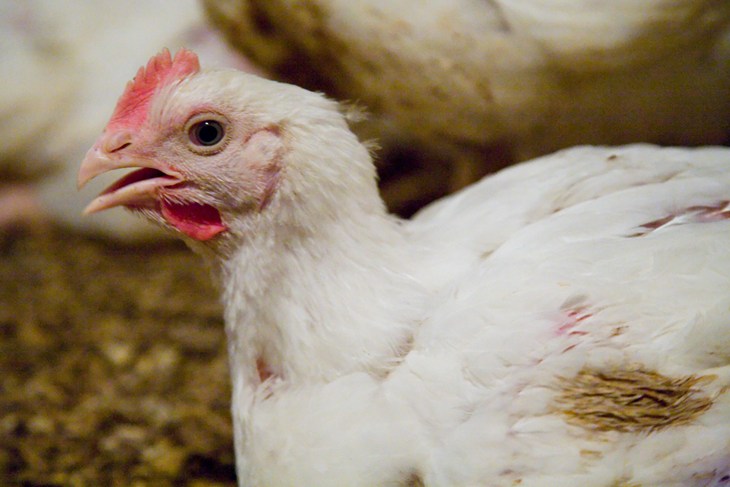 Today (31st October), as the Genetic Technology (Precision Breeding) Bill moved to Report Stage in the House of Commons, we have released a new report warning that, unless gene editing is carefully restricted, the Bill will only perpetuate farm animal suffering and open the door to gene editing of farm animals. Supportive MPs have also joined us in Westminster to take a stand against the Bill.
Our report Selective breeding: How gene editing will perpetuate animal suffering, shows that traditional selective breeding has had a hugely detrimental impact on the welfare of farmed animals and that gene editing will simply make this worse.
Bred to suffer
Whilst the UK Government claims that gene editing simply allows a more rapid and precise way of developing existing breeding practices, the suffering imposed on farm animals by selective breeding is being overlooked.
Over the last 50 years, selective breeding for increased productivity – particularly for fast growth, high yields and large litters – has led to many painful, stressful health and welfare problems in nearly all the main farmed animal species, including:
Modern meat chickens have been bred to grow over twice as quickly as 60 years ago, causing hundreds of millions in the UK to suffer from painful leg disorders each year, while others succumb to heart disease.
Hens have been bred to lay over 300 eggs a year – that's 15 times more than their wild ancestors. They have to draw on their own bone calcium to form eggshells. As a result, many develop osteoporosis, making them susceptible to bone fractures.
Today's dairy cows have been bred to produce ten times more milk each year than they would naturally produce for their calves, placing great strain on their metabolism and contributing to lameness, mastitis and reproductive and metabolic disorders.
Large litter size is a significant cause of multiple welfare problems for both sows and piglets including higher piglet mortality, and a greater risk of more shoulder sores for sows, as well as prolonged births.
Male turkeys have been bred to grow to such great weights and with such disproportionately large breast muscles that many suffer from painful deformations of the hip joints. In addition, most heavy males are so misshapen that they are unable to mate naturally.
Deeply concerned
We are extremely concerned that UK Government is likely to increase the suffering of farm animals by allowing a new form of breeding in farming in England. If passed, the Genetic Technology (Precision Breeding) Bill would permit gene-edited animals and their progeny to be used on farms, subject to some loosely defined and wholly inadequate animal welfare protections. Food products from these animals will also be sold in shops and restaurants without being labelled as such, leaving consumers who oppose gene editing unable to avoid them.
The Governments in Scotland and Wales oppose the Bill and so the use of gene-edited animals and their progeny will not be permitted on farms in both countries. However, the UK Internal Market Act 2020 means that Scotland and Wales will not be able to block the sale of food from these animals.
Severe animal welfare repercussions
Our Chief Policy Advisor and author of the report, Peter Stevenson OBE said: "Gene editing of farmed animals should not be permitted other than in the most exceptional circumstances. The Genetic Technology (Precision Breeding) Bill is currently making its way through UK Parliament, without any meaningful safeguards for animal welfare having been put in place."
"We fear gene editing will entrench factory farming and take us further down the road of treating animals as machines that can be fine-tuned for ever faster growth and higher yields despite the severe repercussions for animal welfare. Therefore, we are urging MPs to vote for several key amendments to the bill."
"Gene editing could also be used to make animals resistant to certain diseases. In some cases, this will be beneficial, but it could also lead to animals being kept in even more crowded, stressful conditions than at present as they will be resistant to the diseases that are inevitable when animals are kept in poor conditions."
Standing up for farmed animals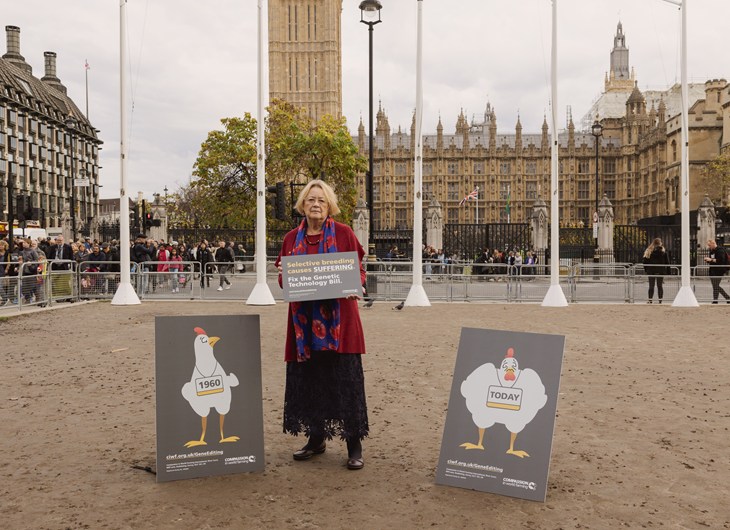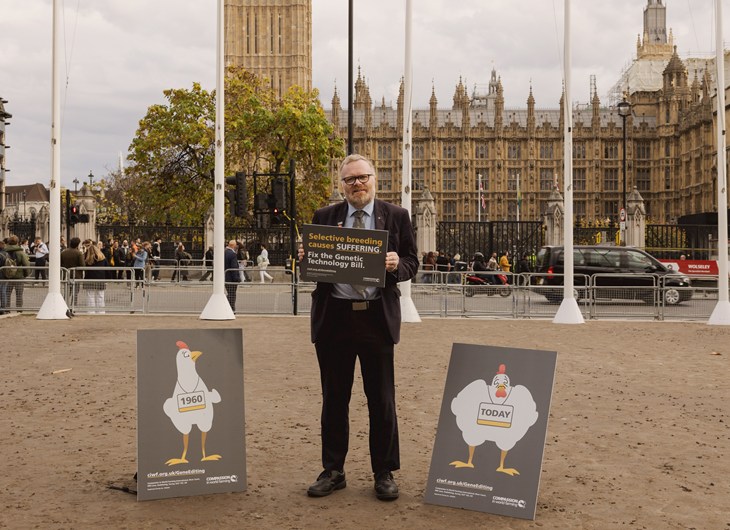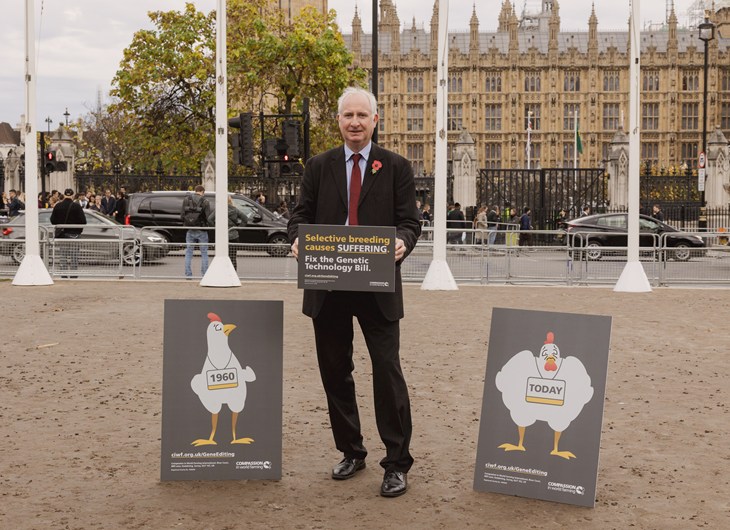 Baroness Bakewell of Hardington Mandeville, and MPs Martyn Day and Daniel Zeichner, joined with us today to show their concerns over the impacts of this Bill. Holding placards outside the Houses of Parliament which read 'selective breeding causes suffering', they took a stand for farmed animal welfare and backed calls for strengthening the Bill by:
Requiring the Secretary of State to independently assess whether specified animal welfare criteria have been met before any application for gene editing of animals is approved.
Not allowing the gene editing of [farmed] animals if there is a less intrusive way of delivering the same results.
Ensuring that gene editing isn't used to make animals resistant to disease simply to prop-up intensive farming systems.
Addressing the risk that gene editing may contribute to animals being bred to suffer through fast growth or high yields.
Find out more
Traditional selective breeding has had huge detrimental impacts on farm animals. Read our report to understand how gene editing is poised to exacerbate these problems.