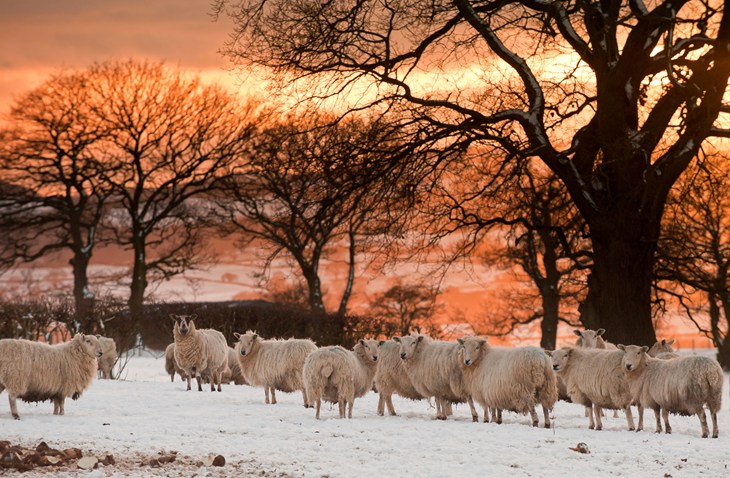 This year we have faced enormous challenges both here in the UK and globally.  We are still seeing the effects of the COVID-19 pandemic and of the cost-of-living crisis is impacting us all. We've also seen massive changes in the UK's leadership, with a new King and significant shifts in Government.
Despite all this, you have helped make this a big year in the fight against farmed animal suffering and we have taken huge strides towards a sustainable food system. As 2022 draws to a close, let's look back at what we've achieved for farmed animals here in the UK.
Animal sentience recognition
In April, a five-year, hard-fought campaign led by you, our supporters, achieved its goal: recognition in UK law that animals can experience pain, suffering and joy.
The Animal Welfare (Sentience) Act will reinstate vital protection for animals that was lost after Brexit. It also goes further than EU legislation by establishing an independent Animal Sentience Committee to scrutinise Government policies.
The Act acknowledges the ability of vertebrate animals, plus lobsters, octopuses and crabs, to think and feel. A huge breakthrough in the battle to protect their welfare.
This is an important legal precedent, that should mean the Government continues to consider animal welfare when developing policy and we hope will improve animal welfare. However, the Act is not yet operational as the Animal Sentience Committee, which will monitor the law, has not yet been established.
We look forward to seeing the committee deliver real change for farmed animals.
"This is a significant milestone and will help to re-establish the UK as leaders in animal welfare," said Nick Palmer, Head of our UK office. "It's proof that your support is so valuable in making Government sit up and pay attention. Our next move will be to ensure that once the Act becomes law it drives a better future for farm animals in the UK."
Consultation commitments
In June, MPs debated the future of cages for the UK's farmed animals. During the debate, the then-Farming Minister announced that the Government will bring forward consultations on the use of cages for laying hens and, at a later date, crates for farrowing sows.
The debate came as a result of over 109,000 people signing a Parliamentary petition, led by our Patron, Deborah Meaden, calling on the Government to End the Cage Age for all farmed animals.
Last week  (12th December) we submitted the petition signed by almost 400,000 people to Defra in London and the Scottish Government in Edinburgh. Both failed to deliver their commitments to review caged farming this year, so we called on them to take action against cages this Christmas.
James West, our Senior Policy Manager, said: "The new year will mark six-months since the UK Government said a consultation on laying hens was 'ready to go' and that one on farrowing crates would follow. The Scottish Government also committed to a consultation on cages for hens and sows in 2021-22 'Programme for Government'. We need to see meaningful action.
"We'll continue to press both the UK and Scottish Governments to bring forward the promised consultations in the new year, as we recognise these as being the vital next step in our campaign to End the Cage Age."
An appetite for Honest Labelling
In August, the UK Government announced that, following a 'Call for Evidence' on animal welfare labelling last year, it acknowledged that there is "public appetite for improved welfare labelling" and promised a consultation in 2023.
Current labelling of meat and dairy products is unclear and misleading. Many labels show idyllic animal and farmyard images accompanied by phrases like 'farm fresh' or 'all natural', but animals raised to produce these products have often spent their lives in factory farms.
We will respond to the consultation, once it is launched, and step up our campaign to ensure the UK Government delivers on mandatory animal welfare labelling of meat and dairy products.
New year, new hope
We have made significant progress for farmed animals this year, but there is still lots to do. In 2023 we will:
maintain pressure on the new UK Government to deliver the Animal Welfare (Kept Animals) Bill which will see a ban on live exports from Great Britain
Push for consultations on the banning of cages for hens and sows and contribute to these once they are launched
Campaign to ensure that animal welfare labelling of meat and dairy products stays on the UK Governments agenda
A huge thank you!
 "Your support is truly astounding, and we are so grateful for your generosity," said Nikky Kimble, our Supporter Engagement Manager. "Without you, we couldn't have achieved all we have for farmed animals in 2022. Your continued commitment keeps us motivated and relentless in the to end factory farming.".
We could not have accomplished this tremendous progress for animals without your dedicated support. From all of us here at Compassion: Merry Christmas and a Happy New Year!
Together we've achieved all this and more
Read about our wider achievements in our Global CEO, Philip Lymbery's latest blog.