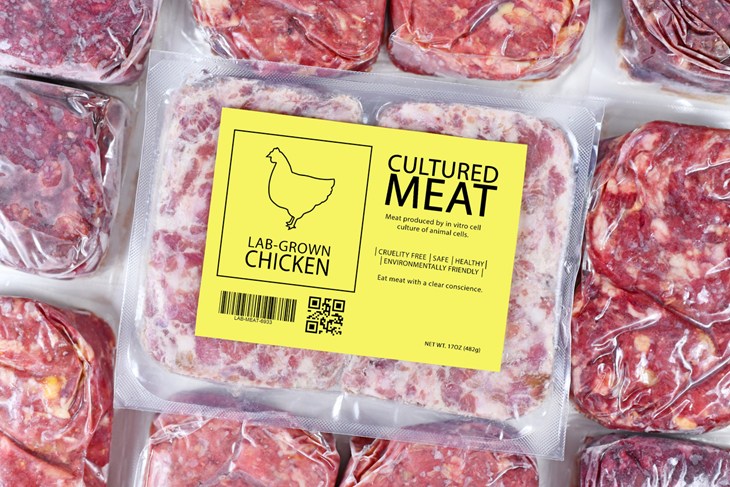 As millions turn their attention to health and diets this New Year, we explore whether 2023 will be the year that developments in alternative proteins bring major changes to what we eat.
While plant-based proteins are already widely available, cultivated meat – also known as lab-grown, cultured or clean meat – has, so far, only been approved for sale in Singapore. Made from cells taken from animals without the need for slaughter – which can be produced without causing them harm – it is grown separately from them in a sterile environment, lowering the risk of infectious diseases.
Worldwide, the alternative proteins market is growing rapidly with some estimates predicting it could reach $17.9billion by 2025 and $1.1 trillion by 2040.
Proteins without cruelty
A switch to proteins produced without the cruelty and environmental damage associated with factory farmed meat production could play an important role in the development of a sustainable global food system. It could also support a switch to more regenerative, nature-friendly farming that helps wildlife and soils to thrive.
The top three developments in cultivated meat to watch out for in 2023 are:
Hybrid proteins – including blends of cultivated meat and plant-based protein – are set for significant investment, with a new innovation centre due to open in Singapore in 2023.
More commercial players to enter US market following UPSIDE Foods becoming the first cultivated meat company to successfully complete the U.S. Food & Drug Administration (FDA)'s pre-market consultation in November 2022.
100 businesses globally are working on cultivated meat – 30 in Europe, a market ripe for expansion, with four of the top ten countries investing in cultivated meat in this region.
Bringing cellular agriculture into the mainstream
Our ground-breaking Extinction or Regeneration conference, taking place on 11th and 12th May, will bring together experts and stakeholders from around the world to share solutions – including the potential of alternative proteins – in support of food system transformation.
Andrea Perez Valdez, our Global Manager of Food Systems Advocacy (Alternative Proteins): "We have seen from the example set in Singapore that cultivated meat could now play an important role as an alternative to traditional meat in the long term. The coming year could see some significant developments in this market. For cultivated meat to realise its potential, united efforts on regulation and legislation as well as public funding for research and development are needed. Actions that can enable a shift to truly sustainable and compassionate food systems are important if we are serious about reaching the global and biodiversity targets."
Isha Datar, Executive Director of cellular agriculture research institute, New Harvest, who will be speaking at the Extinction and Regeneration conference on her experience building the field of cellular agriculture, said: "Having been dedicated to growing food from cells for over ten years, it is heartening to see major progress for cell cultured meat, milk, and eggs worldwide - the establishment of research institutes, products on store shelves, and active regulatory processes. This year, 2023 could well be a tipping point to accelerate the much-needed move to bring cellular agriculture into the mainstream – for the sake of the climate and food security for future generations. To make this happen, it is vital that those working towards this important goal come together to exchange ideas and expertise, and the Extinction or Regeneration conference is an exciting opportunity to do this."
Extinction or Regeneration
The hybrid Extinction or Regeneration conference is being organised by Compassion with a number of other partners. Held at the QEII Conference Centre in London and online, the event will offer individuals, organisations, companies and other experts the opportunity to present solutions across environmental, public health, food business, food policy, conservation, finance and animal welfare concerns.
The conference has attracted world-renowned speakers including: author and ecologist Carl Safina; bestselling author and filmmaker Professor Raj Patel; social activist Dr Vandana Shiva; Director, Centre for Food Policy, University of London Dr Corinna Hawkes; and Director of New Harvest, Isha Datar.
Find out more and book tickets to the Extinction or Regeneration conference.