The scale of fish farming exposed
Published 07/02/2023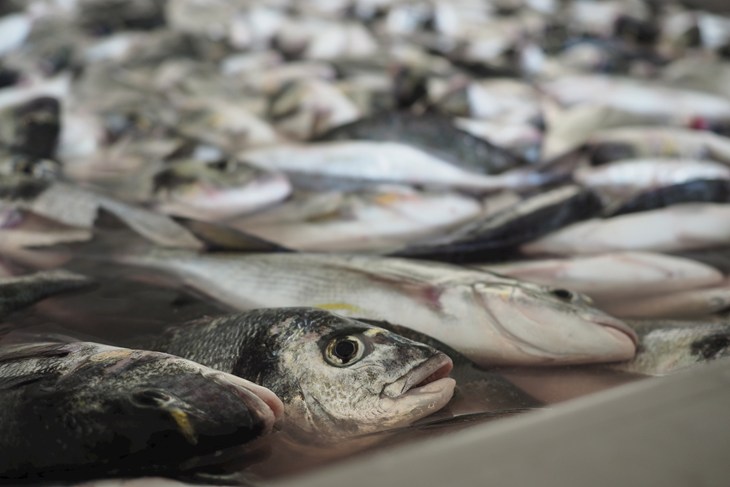 Phil Brooke, Dr Elena Lara and Dr Natasha Boyland who are part of our Rethink Fish team, have co-authored a fascinating new research paper, with lead author Alison Mood. The study, published in Animal Welfare, estimates the global number of individual farmed fish slaughtered between 1990 and 2019.
Alison Mood, runs fishcount.org.uk – a website to increase understanding of fish sentience and raise awareness of the welfare issues in fish farming and commercial fisheries.
Staggering numbers
Although fish are now widely recognised as sentient beings, production is still being quantified by mass, rather than numbers of individual animals slaughtered as with farmed mammals and birds.
Global farmed fish production has increased hugely, from 9 million tonnes in 1990 to 56 million tonnes in 2019. Using this data, authors of the study calculated individual figures from estimates of individual weights at slaughter.
The study reveals that since 1990, the number of farmed fish killed annually for food have increased 9-fold, to a staggering 78-171 billion (estimate midpoint 124 billion) in 2019. However, the actual figure is likely to be higher still, as it does not represent the total number farmed due to mortalities during rearing.
These estimates indicate that farmed fish – the majority of which are produced in Asia – are now likely to outnumber the 80 billion farmed birds and mammals killed globally each year for food.
Insufficient legal protection
Inhumane slaughter practices cause immense suffering for farmed fish. Yet, despite being sentient – capable of feeling pain and experiencing a range of emotions – less than 1% of fish have any species-specific legal protection at slaughter. In practice, most suffer long and agonising deaths.  
"Calculating numbers of animals, rather than simply the mass of fish slaughtered, really highlights the scale of the industry," said Phil Brooke Compassion's Research Manager.
"With insufficient protection in law, each year billions of farmed fish are at risk of significant suffering at the time of killing. It's vital that progress is made in this area with species-specific humane slaughter defined and incorporated into laws and certification schemes."
Read more about our Rethink Fish campaign.