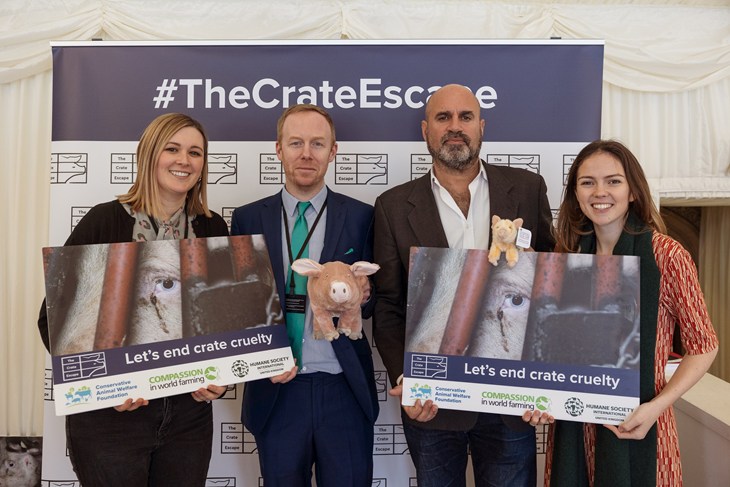 Yesterday (15th March), alongside our friends at Humane Society International/UK and the Conservative Animal Welfare Foundation (CAWF), we held a Parliamentary reception in support of The Crate Escape campaign.
Cruel cages
The campaign is calling on the UK Government to ban farrowing crates and support farmers with the cost of transitioning away from their use. The reception, hosted by Mark Francois MP and attended by cross-party MPs and Peers, raised awareness of the suffering sows endure when they are confined in cruel cages.
Lorraine Platt, Co-Founder of CAWF, commented: "We were delighted to see Parliamentarians, NGOs, charities and campaigners come together as one voice in Parliament to call for an end to the use of farrowing crates in the UK. The Crate Escape reception was a clear display of the strong public and political will to end the suffering 60% of our national pig herd endure every year."
A happier Mother's Day for pigs?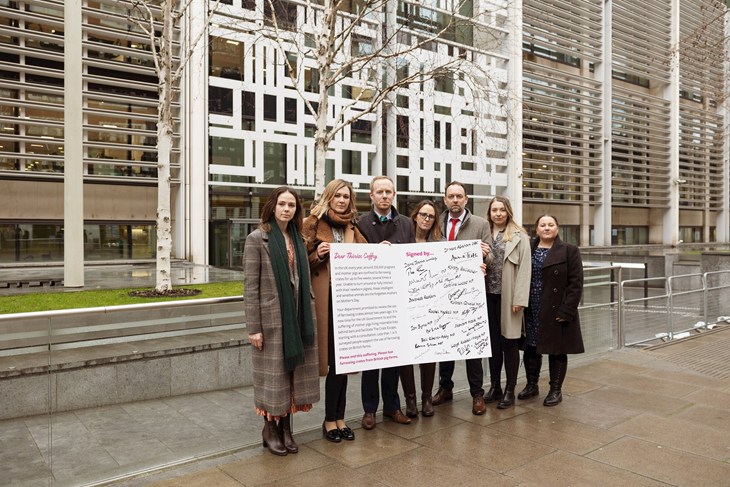 Following the reception, we delivered a giant Mother's Day card to Defra, signed by dozens of MPs, Peers and celebrities, including our Patron, Dame Joanna Lumley. The card asks Environment Secretary Thérèse Coffey to 'please give pigs a happier Mother's Day' and urges her to deliver on the Government's 2021 commitment to launch a consultation for a farrowing crate ban.
Support for free-farrowing
The reception coincided with the publication of a new Survation poll, carried out earlier this month, which found that two-thirds of those polled would support the Government providing financial support to farmers to move to free-farrowing methods. Only 15.5% would presently oppose a ban on farrowing crates.
Our Senior Policy Manager James West, who attended the event, said: "Around 200,000 sows are confined in crates in the UK each year. Stuck in pens so narrow that they can barely move, mother pigs are forced to feed their piglets through bars. The use of these cruel cages causes unimaginable suffering.
"The UK Government has promised to review the use of cages in British farming, and recent polling shows that the British public want a ban, with less than one in five people supporting the use of farrowing crates. It's time for the Government to listen to public opinion and take the next step to facilitating The Crate Escape by finally publishing the long-awaited consultation."
We must do better
Claire Bass, Senior Director of Campaigns and Public Affairs at Humane Society International/UK, added: "Pigs are intelligent and sensitive animals, and the torment they suffer while confined in tiny cages for weeks on end is heartbreaking. Our polling shows that the majority of Brits, over 60%, had not even heard of farrowing crates despite their widespread use. That's a worrying indication of how disconnected consumers are from the grim reality for animals suffering on factory farms. If we're truly a nation of animal lovers then we can and must do better than this, mothers should not be kept in cages."
Find out more about our work to End the Cage Age for all farmed animals.