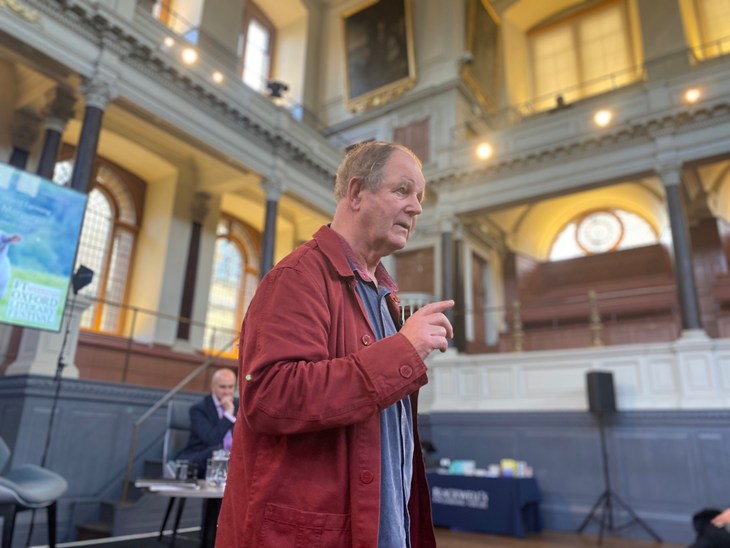 Acclaimed author, Sir Michael Morpurgo OBE, stressed the importance of children having the opportunity to connect with animals and nature in his guest lecture in honour of our founder, Peter Roberts MBE, at the Oxford Literary Festival on Saturday (25th March).
The much-loved British writer and long-term supporter of Compassion, captivated the audience at the 'Farms for City Children: The Peter Roberts Memorial Lecture' event at the Sheldonian Theatre as he joined in conversation with our Global CEO, Philip Lymbery.
Creating memories for children
The former Children's Laureate shared his passion for education and why he believes that giving children the opportunity to create memories by immersing themselves in nature, caring for animals and spending time in the countryside is the key to securing a better future.
Sir Michael, who is also one of our Visionaries, said: "I don't think we can truly understand the importance of soil without a real connection to it. Unless we have dug it, smelt it, planted it, grown in it and harvested from it – know that we have been fed from it. The city children who have come to farms have done that – dug it, smelt it, harvested from it and they won't forget it."
He explained to the audience how he supports children to develop a relationship with the natural world through the charity he founded with his wife, Claire, called Farms for City Children.
He continued: "Some 40,000 children at the first farm for city children in Devon have lived and worked alongside David Ward on the farm for a week of their young lives during the school term. They have fed and checked the sheep with him – morning afternoon and evening – helped with the lambing, driven sheep to new pasture. They have milked cows with him morning and evening, they have mucked out calf sheds, spread fresh straw with him, it's a working farm…they have learnt to love the countryside, how important the farm and the animals were to him, compassionate and kind."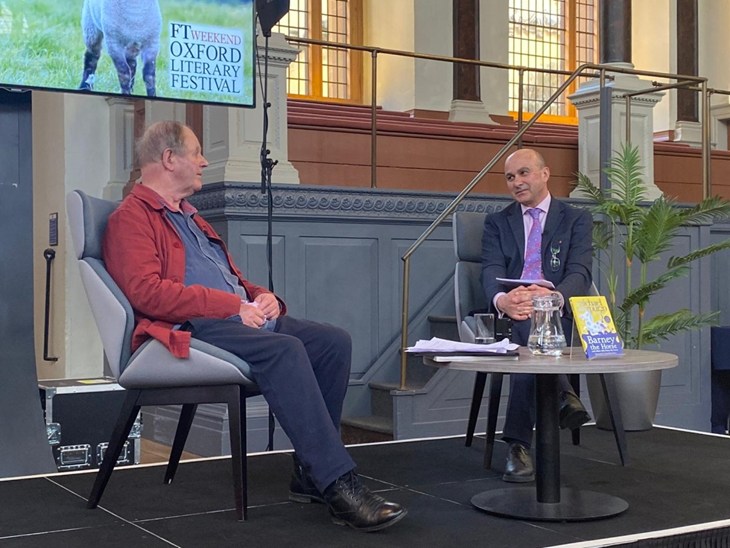 Philip, who is also the best-selling author of books Sixty Harvests Left: How to Reach a Nature Friendly Future, Dead Zone: Where the Wild Things Were, and Farmageddon, said of the event: "It was an absolute pleasure to listen to Sir Michael deliver our Peter Roberts Memorial Lecture this year – what an inspiration he is.
"His passion for animals, nature, and saving our planet is enshrined in so much of his writing which is playing a vital role in helping to inspire and encourage the next generation to take better care of animals, nature and our precious planet.
"We are incredibly grateful to Michael for all he does to connect children with animals and nature and for his ongoing and unstinting support for Compassion in World Farming."
Tales from the farm
This is the third time the Oxford Literary Festival has hosted the animal welfare charity's annual Peter Roberts Memorial Lecture. The event was named in honour of the charity's founder, a dairy farmer, who became horrified at the development of factory farming and the disconnect between modern agriculture and the well-being of animals and the environment. In 1967 Peter and his wife Anna established Compassion in World Farming from the kitchen table of their Hampshire dairy farm.
Ravenous: Why our appetite is killing us and the planet
On Saturday, Philip took part in two other fascinating sessions at the Festival. The first, called 'Ravenous: Why our appetite is killing us and the planet', saw Philip in conversation with UK National Food Strategy author, Henry Dimbleby, about his new book with the same title.
The former government adviser, who resigned in protest at the lack of government action in response to his strategy recommendations, emphasised the urgent need to reform our food system and reduce meat consumption and stressed that the poorest in society will suffer most if we don't.
He also urged the audience to look at their own communities and to consider what they can do themselves to make the food system better.
Grilled
Philip also joined our former US Director and current president of the non-profit group, Mercy for Animals, Leah Garces, in conversation about her new book, Grilled in an event called 'Grilled: Turning Adversaries into Allies to Change the Chicken Industry'.