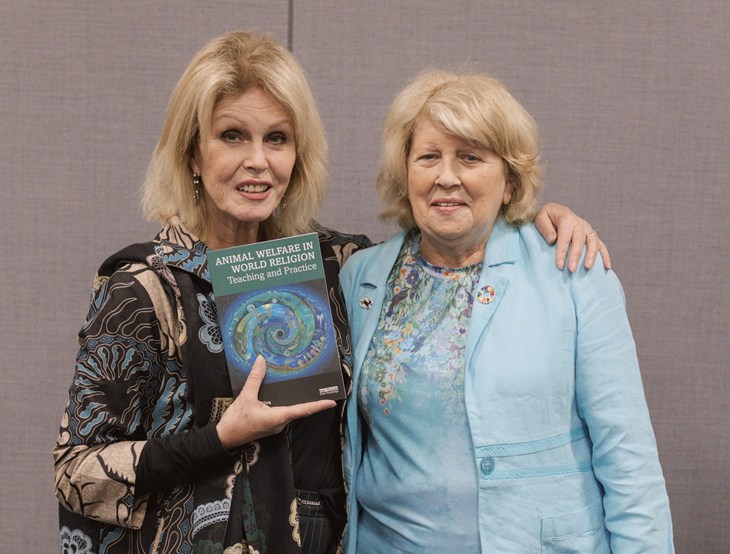 Why do billions of animals suffer unthinkable cruelty at the hands of humans every day, when our world religions teach us to care for and protect them?
This is the question posed by our Ambassador Emeritus and former CEO, Joyce D'Silva in her fascinating new book, Animal Welfare in World Religion: Teaching and Practice.
After decades of working to transform animal welfare in our farming systems, and as a former RE teacher, Joyce takes a deep dive into the many beautiful and compassionate teachings about animals from our global religions. She explores how in practice, these are often ignored despite the evidence that animals are sentient beings that can feel pain, joy, anger, and grief.
A unique perspective
The result is scores of animals left to suffer for the sake of entertainment, sport, and most of all, the cruel realities of factory farming that also have devastating consequences for people and the environment. As such, it's never been more important to understand the disconnect between our beliefs and our actions.
With the help of the voices of leading historical religious figures and modern-day faith leaders, Joyce's book helps to do just that. While many books have explored religious ideology, and others the rights and welfare of animals, few have examined the connection between the two and how it could impact the way we treat animals in future.
Crucially, the book calls on everyone, including religious leaders and followers, to explore these teachings, and ultimately, to ensure that the wellbeing of animals is prioritised.
Kindness and compassion for all animals
Joyce says: "I have been astonished and inspired by many of the teachings of the major faiths about our relationship with other animals, but sadly I have been appalled by the way these teachings have been ignored by many faith leaders and followers.
"I hope my book will help to put the wellbeing of animals on the agenda of faith leaders, followers of faiths – and indeed, everyone who is concerned about ethical issues."
Aside from the world's five major religions – Judaism, Christianity, Islam, Hinduism and Buddhism – Joyce also explores the beliefs and practices around animals of Indigenous peoples from the USA and Australia, Jainism, Sikhism and Rastafarianism.
Prominent rave reviews
The book has already garnered rave reviews, including from Dr Jane Goodall, PhD, DBE, Founder – the Jane Goodall Institute & UN Messenger of Peace who said: "This book is an important contribution to understanding the ethical and moral aspects of animal welfare as described in the teachings and practices of religions. Joyce, while not a theologian, has, masterfully, not only told us stories we didn't know derived from religions, but has also showed us that we need to work on our practices that do not often match our beliefs and religious teachings."
Animal activist, actor, and our Patron, Dame Joanna Lumley, said the book is: "Full of optimism and with many surprises. We desperately need everyone to work together to improve the lot of farm animals, which will also benefit wildlife, the environment more generally, and ourselves. This excellent book will help achieve that end."
A must read
Animal Welfare in World Religion is a must-read for anyone interested in animal welfare, religion, and the link between the two. It is available now from all leading bookstores, and to purchase online from Routledge where a 20% discount will be available until 30th June using the code ESA31.
Joyce will be speaking about the book at the Hackney Empire in London on 4 June, alongside legendary animal rights activist Peter Singer, and Compassion CEO, Philip Lymbery. Discounted tickets are available for the event using the code SINGER50.