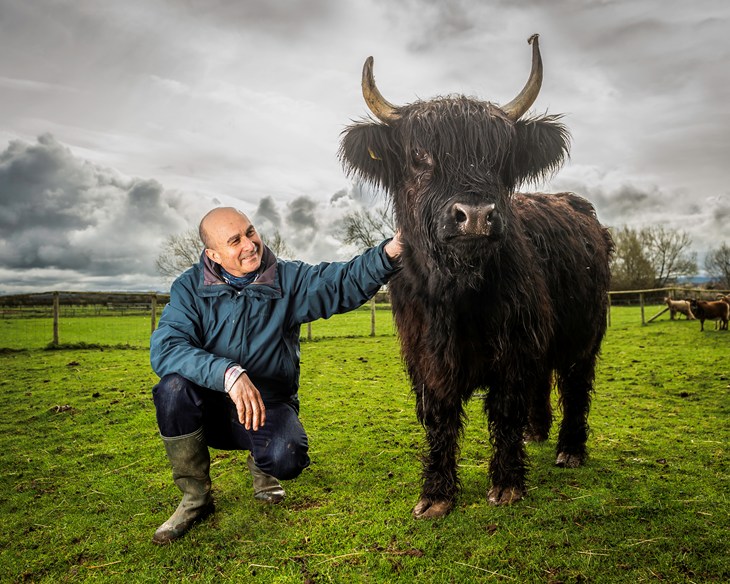 This week, our global CEO's powerful book - Sixty Harvests Left: How To Reach a Nature-Friendly Future - took centre stage once again as the paperback edition was officially launched.
Taking its title from a chilling warning made by the United Nations that the world's soils could be gone within a lifetime, Sixty Harvests Left uncovers how the food industry threatens our world. Put simply, without soil there will be no food: game over. And time is running out.
The dark side of food production
This iconic book is the first to shed light on the dark side of food production. It uncovers the realities of our global food system and challenges the prevailing notion that factory farming is a necessary evil, emphasizing that it poses a direct threat to our planet's survival.
An iconic book for our times that completes a powerful trilogy and achieves another 'first'. Sixty Harvests Left will be the first book to show that, far from being 'a necessary evil', factory farming is threatening the very survival of our planet and that ending the industrialisation of the countryside is key to saving our children's future.
It will shock. It will make you think. But Philip makes it impossible to turn away. He confronts 'Big Ag', whose mega-farms, chemicals and animal cages are sweeping across the countryside around the world, and jeopardising the very air we breathe, the water we drink, the food we eat and the nature we treasure. And yet, Philip tells us, amidst all this doom and gloom, there is reason to be hopeful.
Hope for the future
He spotlights the pioneers who are battling to bring landscapes back to life, in a world where wildlife, hens, pigs and people thrive by protecting the very thing that our civilisation is built on: soil.
The book draws attention to the alarming rise of US-style mega-farms in England, Wales, and Northern Ireland, holding millions of animals and impeding their natural behaviours.
Sixty Harvests Left emphasizes the crucial role of soil as the foundation of our civilization and highlights the potential for regenerative, agroecological farming to address animal cruelty, protect wildlife, stabilise the climate, and safeguard the planet for our future generations.
Testimonials
"The chilling title is the red flag; the contents, however, lay out all the remedies to save the planet and its species, including ours, and make for absorbing and sometimes terrifying reading. Minutely researched, and written for laymen as well as experts, Sixty Harvests Left reads like a thriller. It deserves to be read worldwide and acted upon immediately. I cannot recommend it highly enough."
Dame Joanna Lumley
"In this beautifully written book Philip Lymbery describes how intensive agriculture harms the environment and inflicts suffering on sentient animals. But after visiting with and talking to those on the front line – scientists, farmers and food providers, he is able to show that there are sustainable alternatives. And that they are working. There is indeed hope for the future of our planet, and each one of us can play a part. I urge you to read Sixty Harvests Left."
Dr. Jane Goodall, DBE Founder of the Jane Goodall Institute & UN Messenger of Peace
"A book of urgency but also hope, as Lymbery shares solutions to save us."
Chris Packham
Get your copy now
The paperback edition of Sixty Harvests Left is now available to buy online and in most bookshops. Royalties from the book will help us to continue our fight against factory farming.