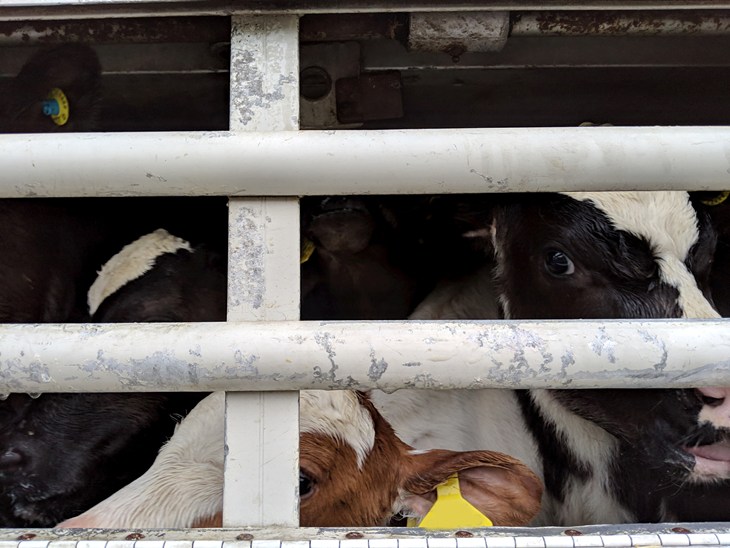 Our Chief Policy Adviser, Peter Stevenson, has appeared in a hard-hitting documentary highlighting the appalling cruelty suffered by calves being exported live from Ireland to mainland Europe.
The documentary, 'Milking It: Dairy's Dirty Secret', produced by the Irish TV series RTÉ Investigates, exposed the unimaginable suffering Irish bull calves were forced to endure during a long and exhausting 61-hour export journey from the Republic of Ireland. It also unveiled the environmental implications of Ireland's dairy industry and included shocking footage of calves being kicked, dragged, thrown, and hit using sticks in several markets in the country.
Clear law-breaking
Peter was asked by the programme makers to view the footage they had filmed and he appears in the documentary commenting on the appalling scenes. He said: "What is a disgrace about the journey you've tracked is that it clearly breaks the law, despite endless assurances from the Irish government that they take enforcement of the law seriously".
"EU law provides that even when they are on a ferry, calves must be fed after 18 hours of travel. For many calves, their last feed will have been several hours before boarding the ferry. So the 18 hour point when they must be fed will be reached while they are on the ferry. But it's impossible to feed calves who are in a truck on board a ferry. As the feeding requirement can't be complied with, calves should not be sent on the long ferry journeys to France. In my view as a lawyer, Ireland's calf exports are inherently unlawful and should be stopped."
The documentary highlighted the big increase in calf births in Ireland as a direct consequence of the dairy sector's expansion. It also reported that milk production in Ireland has grown 68% in recent years and the boom began after EU restrictions on producing milk were lifted in 2015.
Overall, Ireland produces around nine billion litres of milk every year, contributing to 10% of the world's infant formula.
Routine slaughter of healthy calves
Male calves are regarded as worthless by industry as they do not provide milk, nor do they fatten well for beef, unless they are cross bred with beef breeds and RTÉ Investigates captured the routine slaughter of healthy calves as a byproduct of the dairy industry.
The use of sticks on young calves is strictly forbidden and calves' tails should never be twisted or pulled, as they are sensitive and can easily break. Yet, the documentary showed how these rules are freely ignored by some market staff, farmers, and transporters.
In one clip, a market worker can be seen throwing small calves from a trailer as they are being delivered for a sale. These actions are strictly forbidden by EU regulations.
Long export journeys
Mainland Europe has become the 'dumping ground' for many bull calves too. Ireland exports tens of thousands of male dairy calves to the continent each year – particularly to Netherlands and Spain. The journeys involve an 18-hour ferry crossing from Ireland to Cherbourg and then a long road journey.
For the unweaned calves it's a long time without milk. The calves cannot be fed aboard the ship as there are no feeding facilities apart from water faucets on the trucks.
EU law mandates a mandatory stop for water and feed for the calves after nine hours of travel once leaving Cherbourg, but the driver in the documentary failed to comply with this requirement.
Support our campaign to end export cruelty
We have been campaigning against Ireland's calf exports since the late 1990s. Since 2016, we have coordinated the annual Ban Live Exports: International Awareness Day, to encourage and support grassroots action against this appalling trade around the world.
Please sign our petition calling for limits to journey times within the EU, and a ban on all EU live exports to countries with lower animal welfare standards.