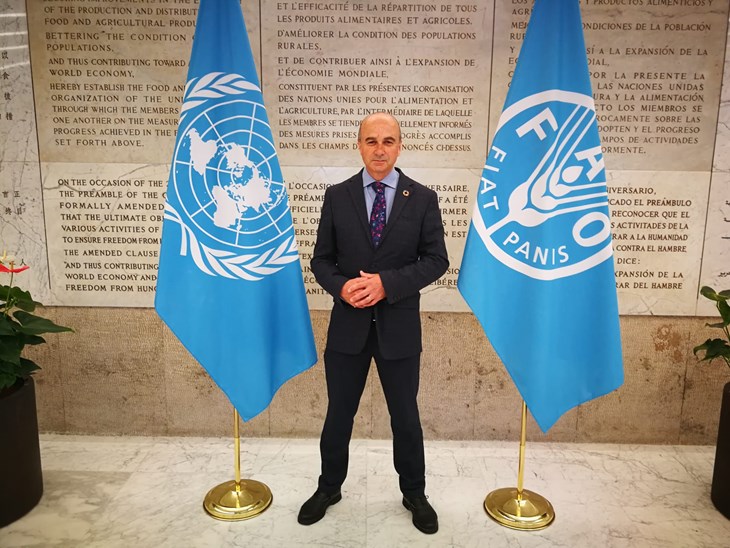 Our Global CEO took to the floor at the UN Food Systems Summit + 2 Stocktaking Moment earlier this week (24th July) to highlight the urgent need to move away from industrial animal agriculture and transform our global food system.
Reporting on progress
The meeting – taking place from 24th to 26th July in Rome – sees Member State representatives gather to report on their countries' progress towards creating sustainable food systems.
A delegation from Compassion, including our Global CEO, Philip Lymbery, and our Global Head of International Affairs, Eirini Pitsilidi are participating in the event, raising awareness of the urgent need for world leaders to agree a global rescue plan for our global food system.
Voicing our concerns
Philip was invited at the Stakeholder Roundtable session which focused on the food systems transformation agenda and how it fits with other global agendas at regional and country levels. Philip was one of several speakers invited to showcase experiences and best practice to develop structured and coherent action at national level.
A former UN Food Systems Champion, Philip spoke of the urgent need to transform our global food system, before it is too late, commenting: "Without addressing food, achieving the SDGs (UN Sustainable Development Goals) will be beyond us, and climate change will beat us. The choice now facing humanity is, I believe, extinction or regeneration. It is hugely heartening, then to hear from António Guterres, the UN secretary general reaffirming his call to action to transform food systems to end the senseless war on our planet.
"I believe we need to consider moving away, with urgency, from industrial animal agriculture. It harms family farmers, the disempowered, the marginalised, those suffering poverty, vulnerable communities and animals both domestic and wild.
"An empowered UN Food Systems Summit will lead to a transformation of food systems. We need world leaders to agree a clear global 'rescue plan' for our food system to ensure a healthy future for animals, people and the planet."
This critical leadership dialogue heard from stakeholders including civil society, NGOs, youth and women's groups, and indigenous people, sharing their perspectives on food systems to improve the debate on outcomes from the Summit.
Opportunities to spread the word
Members of our International Affairs team are attending the full three days of the Summit, highlighting the urgent need for food systems transformation.
The meeting coincides with the launch of a new phase of our END.IT campaign to raise awareness of the health risks associated with factory farming. This includes the launch of a new booklet which explains how our excessive appetite for animal-sourced foods is harming our health.
We need to transform food systems
Please sign our END.IT petition, calling on global leaders to agree a clear global 'rescue plan' for our food system to ensure a healthy future for animals, people and the planet.