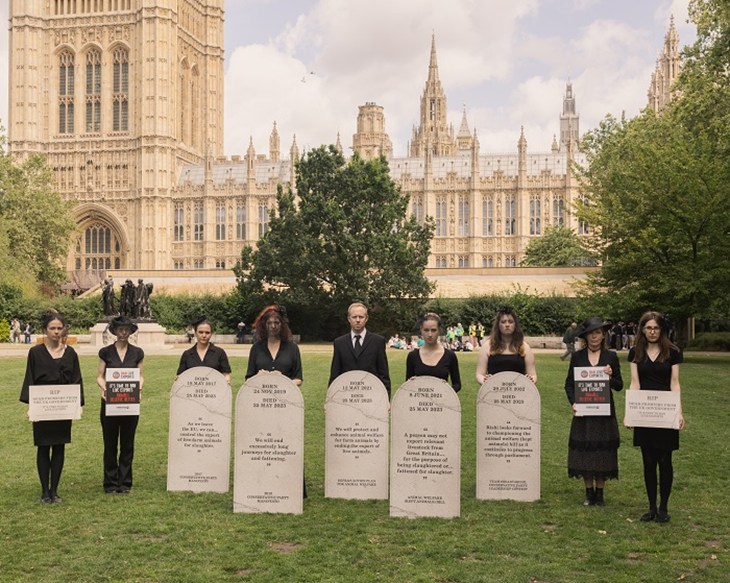 Yesterday (12th July), we staged a stunt in Parliament Square, Westminster, to mourn the loss of the Kept Animals Bill which was dropped by the UK Government in May. The action highlighted that although the Bill – which would have banned the cruel and archaic live export trade – has languished and gone to the grave, promises made to introduce legislation to address the issue must be upheld.
Dead promises
The protest marked a one-minute silence to call to mind the gruelling journeys that farm animals endure when they are exported overseas from Britain for slaughter and fattening.
"The event was themed around a cemetery with mourners – comprising of Compassion staff and supporters – standing in funeral dress amongst tombstones to emphasise calls on the UK Government not to bury their promise to Ban Live Exports," explained Susie Aliband, our Senior Campaigns Manager.
"It's imperative that the UK Government honours its 2019 manifesto pledge and bans live exports for slaughter and fattening from Great Britain by introducing and passing legislation immediately."
Letting animals and voters down
Live exports cause overcrowding, stress, exhaustion, dehydration, hunger and even death. We have campaigned relentlessly for over 50 years to make this abhorrent outdated practice illegal. In the past six months, we have seen other countries ban or phase out the trade, and yet the UK Government has failed to make progress despite manifesto pledges.
"Quite simply, the Government is not only letting farmed animals down, but compassionate citizens and voters too," said Nick Palmer, Head of our UK Office. "But we are not giving up and need to ensure these promises are revitalised and fulfilled. We are determined that the promise to Ban Live Exports from Great Britain's shores will not go to the grave."
Take action
If you haven't already please show your support and sign our petition calling on the UK Prime Minister to show true leadership by banning this cruel and unnecessary trade.