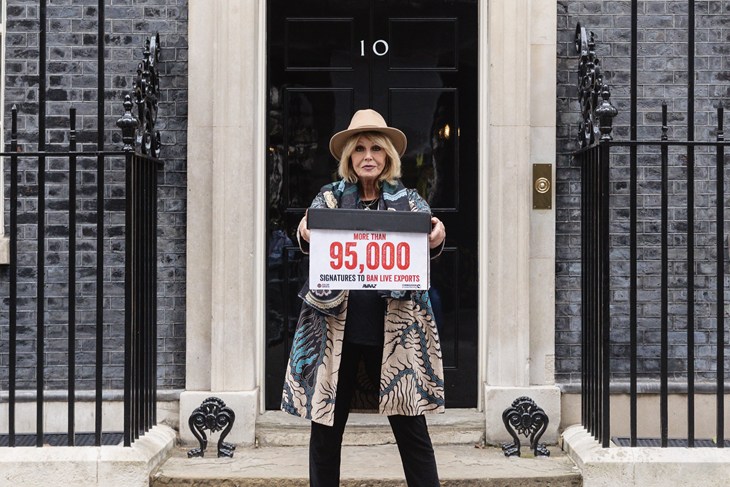 Today (20th September), we were joined by our fabulous Patron, Dame Joanna outside 10 Downing Street, to deliver a petition with more than 95,000 signatures calling on the Prime Minister to show true leadership for animals and ban live exports.
A huge betrayal of animals
The live export of animals causes enormous suffering – overcrowding, exhaustion, dehydration and stress.  Animals are crammed into vehicles where they may not have room to lie down. They can be injured or even trampled to death. During these long journeys animals may suffer extremes of temperature, often without sufficient rest, food or water.  This cruel trade would have been banned by the Kept Animals Bill, but the the Bill was dropped by the UK Government in May this year.
Our Patron and long-term supporter of our campaign to Ban Live Exports, Dame Joanna Lumley, said: "In May, after 18 months of stalling, the UK Government withdrew the Bill that was set to ban live exports. This is a huge betrayal of animals. It's high time the Government delivers on its commitment to end this trade. So come on Rishi Sunak, what are you waiting for?"
Keeping up the pressure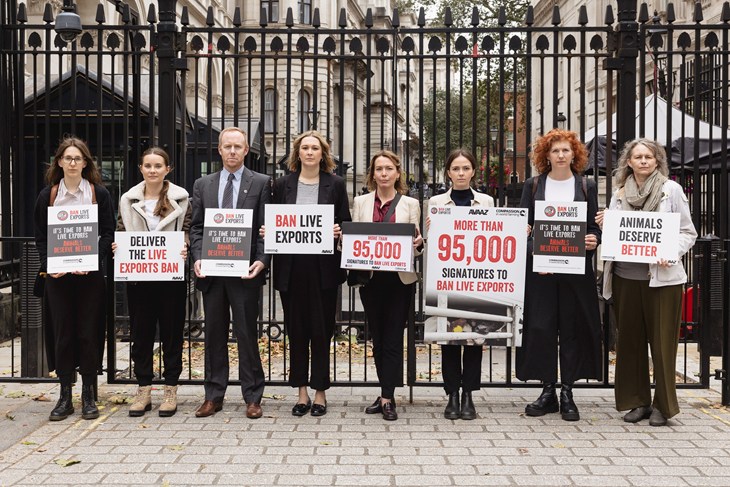 We have campaigned relentlessly for over 50 years to make this abhorrent practise illegal. In recent months, other countries have banned or begun to phase out the trade, and yet the UK Government has failed to make progress, despite manifesto pledges.
James West, our Chief Public Affairs Manager said: "We are outraged that, having introduced legislation which easily passed its initial stages and had broad cross-party support, the UK Government dithered for 18 months then abandoned the Bill. We are therefore continuing to keep up the pressure to ensure legislation that results in a live exports ban remains high on the UK political agenda.
"We believe animals should be fattened and slaughtered as close as possible to their place of birth.
"The exportation of live animals for those purposes is simply unnecessary and must be banned by the Government without further delay."
Take action
On 18th October, we will be in Parliament, briefing MPs on why they must support legislation to ban live exports.
Please invite your MP to attend the walk-in and support legislation that will Ban Live Exports!