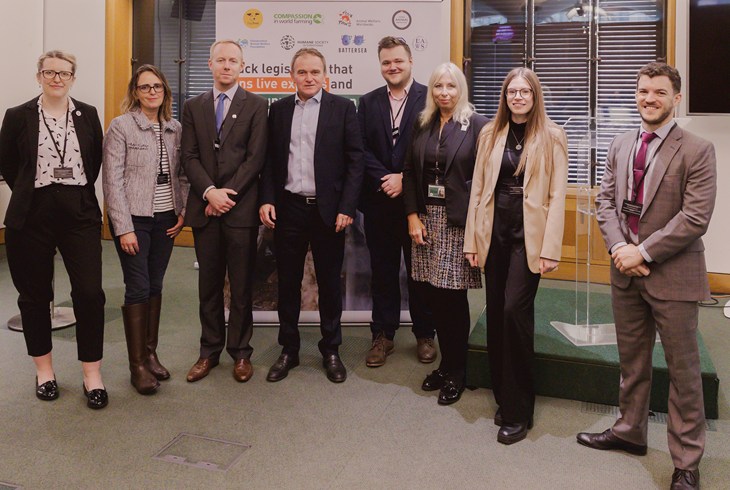 Yesterday (18th October) – along with some of the UK's biggest animal welfare groups – we held a walk-in session for Members of Parliament at Westminster. Hosted by the Rt Hon George Eustice MP, the parliamentary event called for Bills to:
ban live exports from Great Britain for slaughter or fattening
ban the import of puppies and kittens under 6 months, along with other restrictions such as the import of dogs with cropped ears
make dog abduction a specific offense
Tireless campaigning
In May, the UK Government announced that they were dropping the Animal Welfare (Kept Animals) Bill, which we, together with our supporters and other like-minded organisations, had tirelessly campaigned on.
The Bill included several measures, including the banning of live animal exports from Great Britain, a campaign we have relentlessly highlighted for 50 years.
The Bill would also have introduced measures to end the illegal puppy trade, ban imports of dogs with cropped ears and make dog theft a specific offence.
Ban Live Exports
The walk-in follows the delivery of our petition – which gained over 95,000 signatures – to Downing Street last month, calling on the Prime Minister, Rishi Sunak to show true leadership for animals and deliver a ban on live exports for slaughter and fattening. 
Live exports cause overcrowding, stress, exhaustion, dehydration, hunger and even death. In recent months, other countries have taken action to ban or phase out the trade, yet the UK Government has failed to make progress despite manifesto pledges.
Keeping up the pressure
"We know that a ban on live exports has huge public support, and it's great to see that reflected in the large number of MPs who attended the event today," said James West, our Chief Public Affairs Manager. "It is now time for the UK Government to take note and finally deliver the long-awaited Bill to ban live exports so this trade is ended once and for all.
"Thank you to all those MPs that attended our session and for helping to keep up the pressure to ensure legislation to ban live exports remains on the UK political agenda."
Widespread support
The Rt Hon George Eustice MP, who hosted the event, said: "The Kept Animals Bill was packed with measures that improved animal welfare and enjoyed cross party support. It was great to see so many MPs showing their support for taking the various components forward as stand alone Bills in the final session of this parliament and we will work together to take these forward".
Find out more about our campaign to Ban Live Exports.