Worldwide, every year, millions of farm animals are forced to endure journeys of hundreds, or even thousands, of miles, only to be slaughtered on arrival or be fattened in often inhumane conditions.
Live animals, including calves, cattle, sheep, pigs, goats and horses are routinely transported by road, rail, sea or air across continents. The follow video depicts just one of these harrowing journeys the animals make from the UK to mainland Europe. 
This ordeal is painful, stressful and completely unacceptable. Please show your support and join us on our annual Ban Live Exports International Awareness Day to help vulnerable animals like these.
The problem
Long distance live animal transport frequently results in:
Overcrowding – Animals are crammed into vehicles. Many are injured or trampled to death.
Exhaustion and dehydration – They can be in transit for days, suffering extremes of temperature and often without sufficient food, water or rest. Many die as a result.
Pain and stress – Animals are sentient beings and feel pain and stress just like we do.
Illness and disease – The spread of diseases across the globe – such as bluetongue virus, foot and mouth disease, avian influenza and swine fever – can be directly attributable to the live transportation of farm animals.
A lack of legal protection – When animals are exported from Europe to countries outside the EU they leave behind them all the legal protection they once received. This means they can face terrible abuse during transport and at the time of slaughter.
Unexpected issues – in addition to routine suffering, long distance live transport can also result in fires, delays or sinking of livestock ships causing the suffering and death of large numbers of animals.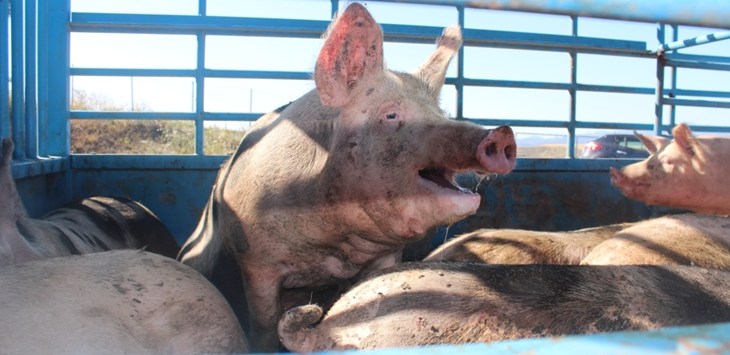 What we are doing
We are calling for the end of all long-distance live transport. Our mission is to:
End live exports from the UK.
End live exports from the EU to non-EU countries.

Ensure international legislation and guidelines on the welfare of animals in transport and slaughter are enforced.
We will do this by:
Securing a higher age limit at which animals can be transported over long distances.

Ensuring animals are fattened and slaughtered as close as possible to their place of birth.

Limiting the total journey time to 8 hours.

Ensuring the live transport of animals for slaughter is replaced by a trade in meat.
Ban Live Exports International Awareness Day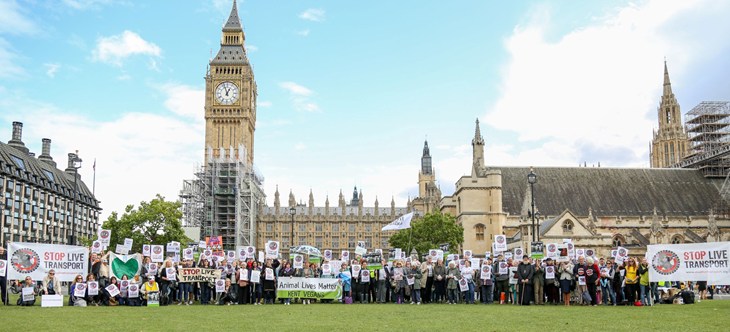 Ban Live Exports International Awareness Day is a day of global action where people all over the world come together in solidarity to speak out against this horrific practice and urge those in power to make it stop.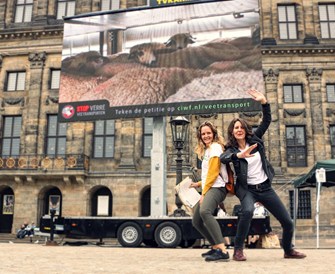 Its inception on 14 September 2016 marked the first anniversary of a live transport tragedy, in which 13,000 sheep died aboard the Trust1 ship travelling from Romania to Somalia due to delays and inadequate care.
NGOs and campaigners in over 40 countries – from Brazil, to Australia, to South Korea – have taken part in the awareness day. Global actions have included solidarity marches through Kathmandu, a petition launch in New Zealand and a giant projection on the white cliffs of Dover.
Join us on June 14th for Ban Live Exports International Awareness Day 2022 and show your support for these animals!
Take action