It's time to evolve
Pigs, hens, meat rabbits, ducks and quail are imprisoned in factory farm cages all over the EU. End the Cage Age will work on eliminating all of these cages. We need your help to bring about these changes. They won't happen overnight, but, with your backing, they will happen.
Every generation must make its mind up which injustice and cruelty to animals it is going to stop. The time has come for this generation to stand up and End the Cage Age.
A global problem
Across the world, billions of animals are farmed in cages.
In Europe alone, hundreds of millions of animals spend their entire life, from birth to death, in a cage. Cages keep animals isolated, or tightly packed in confined areas. In the worst cases they are barren, provide minimal space and prevent even moderate exercise. Being kept in these conditions, even with excellent stockmanship, can have severe health and welfare implications for the animals involved.
The range of animals that are farmed in a form of cage in the EU is wider than many might think. Not only hens (in 'enriched cages'), but pigs (in sow stalls and farrowing crates), ducks and quail and even rabbits are all farmed in cages.
So where are all the cages?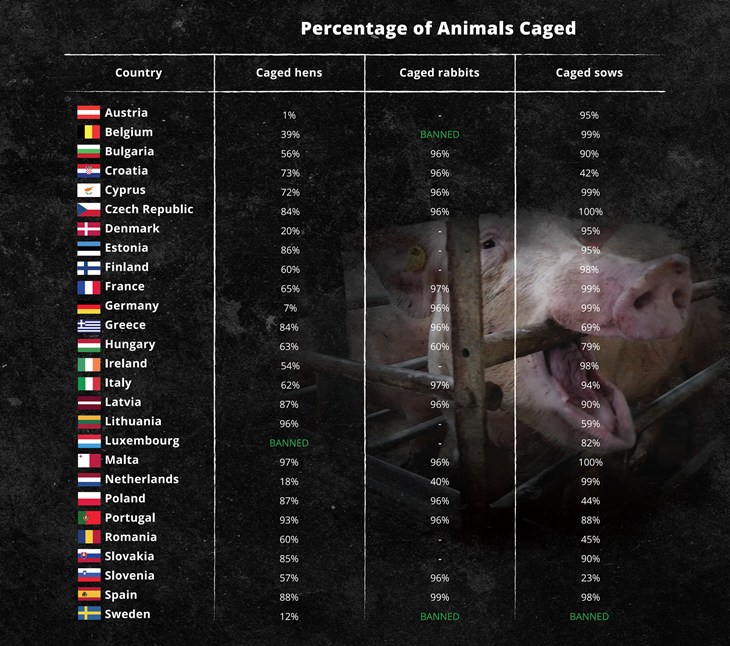 To find out more information on the use of cages across the EU, check out our report.
What you can do
EU citizen? Take action for Europe's caged animals by signing our European Citizens' Initiative
British resident? Sign our petition to British ministers asking them to End the Cage Age for all the UK's farm animals.
Share this page: