Every year millions of animals are transported from the EU for slaughter in the Middle East and North Africa. The journeys last hundreds of hours and they face brutal treatment on arrival.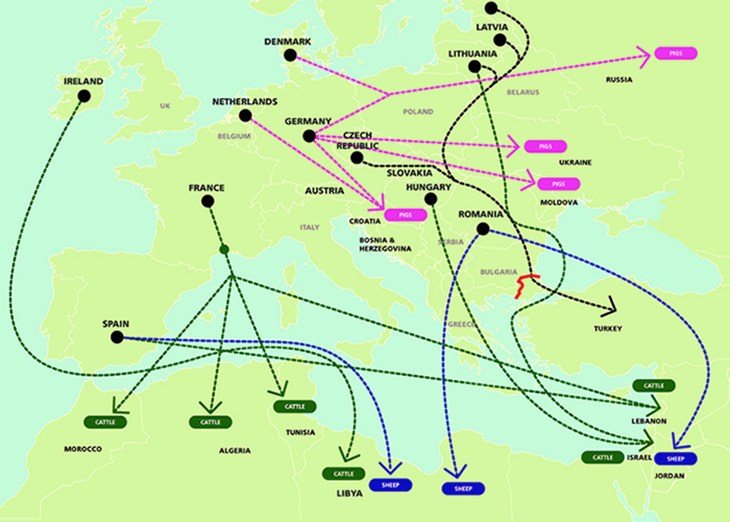 Every year, over three million animals are exported from the European Union to non-EU countries. Hundreds of thousands are destined for countries in Russia, Turkey, The Middle East and North Africa. Our investigations have uncovered animals being exported live for brutal slaughter in countries across the Middle East, and even as far as Singapore.
These horrifically long journeys must be stopped once and for all and replaced by a trade in frozen or refrigerated meat.
When European animals are exported outside of the EU, they leave behind them every shred of legal protection they once received. The result can mean squalid housing, brutal handling, torturous restraint systems, and slow, painful slaughter.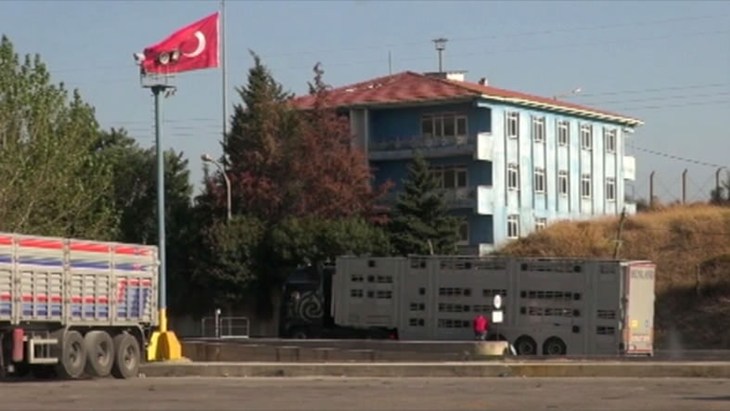 Latvia to Iraq
In one incident, investigators witnessed a truck of bulls which set off from Latvia being delayed at the Turkish border for 6 days. The truck had already travelled for 2600km over 5 days. When they were eventually cleared to enter Turkey, they still had another 2000km to go....to Iraq!
EU lobbying
Compassion in World Farming works hard to influence decision-makers in the EU. Many MEPs are in favour of improving conditions for animals in transport and have voted to impose an overall limit on journey times. In its last sitting the European Parliament voted in favour of a limit to journey times, but the European Commission failed to support this change, resulting in no change in the law.
Compassion in World Farming makes formal complaints to Member States regarding their failure to comply with Community legislation on the protection of animals during transport.
We're working hard to lobby politicians to support a ban on the export of live animals from the EU for slaughter and fattening. The Commission has itself confirmed that it cannot safeguard the welfare of EU animals once they are exported outside EU borders. We believe this is a clear reason to stop the trade once and for all.
Lobbying for review
The 2011 review of animal transport regulations by the EU Commission, was very disappointing as it did not propose any new legislation, despite recognising that current transport rules are "not in line with current scientific opinion", and despite the current regulation recognising that "Long journeys are likely to have more detrimental effects on the welfare of animals than short ones." Instead, they propose better enforcement by Member States: something that, to date, has only had limited impact.
Despite this, Compassion in World Farming will continue to lobby for stronger EU Transport Regulations. The crucial areas of journey length, rest times and stocking densities must be addressed as soon as possible. We would like to see a higher age limit at which animals can be transported over long distances and for no animal to be transported for longer than 8 hours to slaughter or for further fattening.
Find out more