Over the last few decades, Compassion has carried out and commissioned a number of investigations into the global trade in live animals. Take a look through some examples of these below. Please be aware - you may find some of the footage distressing.
UK to Continental Europe – 2019
Journey route: Southern Scotland to France and beyond
Animals transported: Calves
This investigation trailed one of the many exhausting journeys made by unweaned calves from Scotland to Continental Europe.
Filmed over three days, this investigation revealed the cramped and gruelling conditions animals are forced to endure during live exports.
The  unweaned calves, only a few weeks old, cried loudly and tried to suckle the bars of the truck. It was heartbreaking to witness.
Europe to Israel – 2015
Journey route: Eastern Europe to Israel
Estimated distance: 2,500 miles
Estimated time: 7 days
Animals transported: Calves
The former Compassion Investigation Unit, in partnership with Animal Welfare Foundation and Tierschutzbund Zürich, gathered evidence which showed some of Europe's most vulnerable animals exported thousands of kilometres to Israel in appalling conditions. Hungry and exhausted, young calves travel across the EU to be loaded onto rust-bucket livestock vessels. Those that die at sea are often carelessly tossed overboard, while others, weakened by their journey, die shortly afterwards in quarantine.
Please note the film contains scenes viewers may find upsetting
There are no official records for how many of Europe's exported animals die at sea, but one Israeli news story reported that the bodies of 32 calves were found on board one vessel that arrived in Israel earlier this year. Figures obtained by our former Investigation Unit and Israeli group, Let the Animals Live, also show that calf deaths in quarantine facilities were routine for 8 out of 10 shipments arriving from the EU. In one case 21 cattle died. And the sad fact is that there will be many others that suffer terribly but survive.
At the end of all this suffering these creatures also face a cruel death. They're taken to slaughterhouses in Israel, Gaza and the West Bank where our previous investigations have shown they can face brutal handling – treatment that would be illegal in the EU – and have their throats cut while they are fully conscious.
As I trailed young calves who were loaded straight onto a truck after 5 days at sea, I couldn't escape the fear that their terrible journeys would ultimately have a brutal end: yanked by ropes to an inhumane death in a Gazan or Israeli slaughterhouse.
-Investigator
---
UK to France – 2013
Journey route: Northern England to Western France
Estimated distance: 630 miles
Estimated time: 18 hours
Animals transported: Sheep
In the summer of 2013 Compassion in World Farming undertook two investigations trailing sheep  on their long journeys from the UK to France and Germany.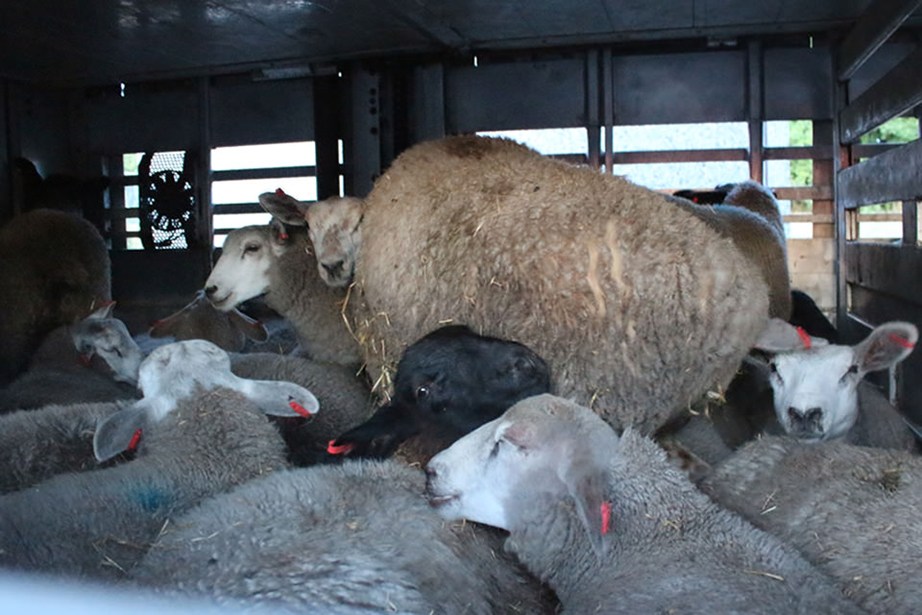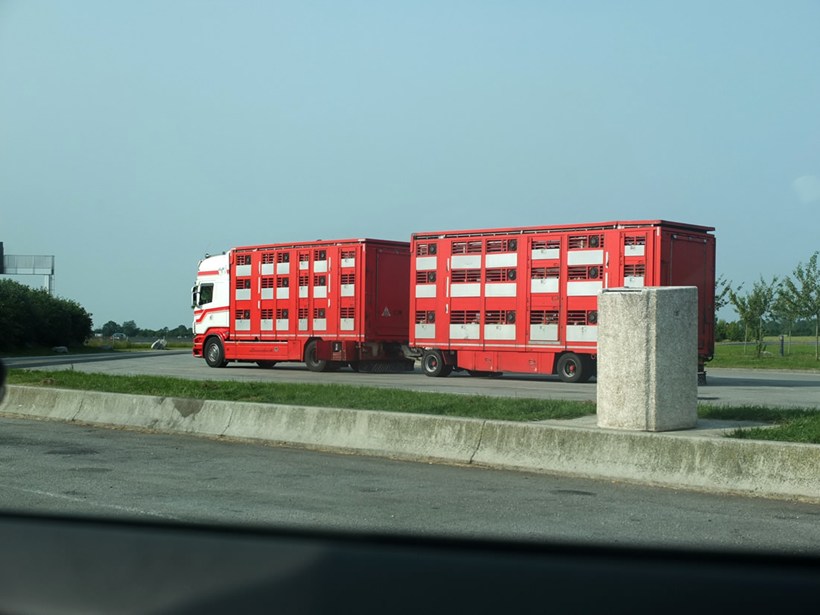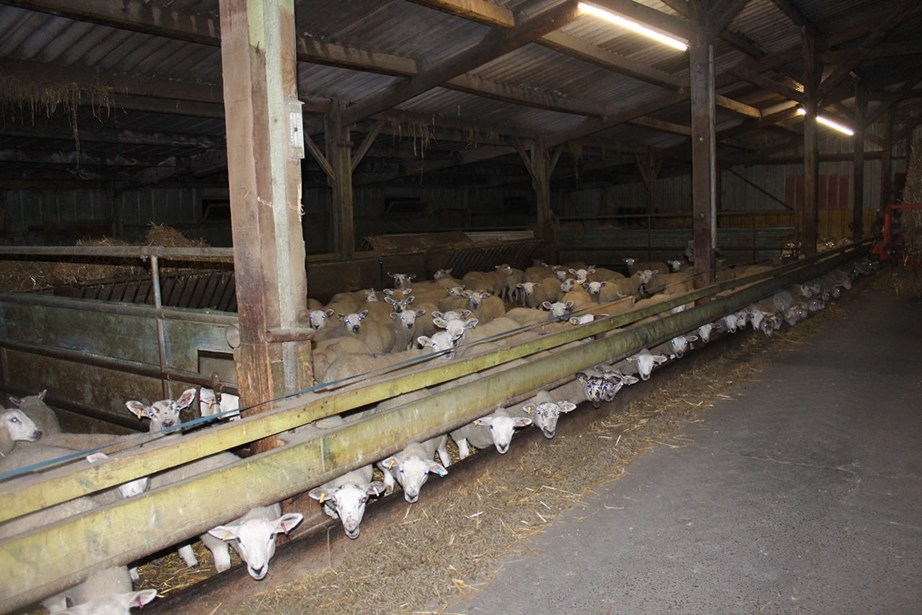 The sheep we trailed were transported an estimated 18 hours from the Sheffield area to the Deux-Sèvres region of France, where they were unloaded into dingy barns to live out the last month of their lives shut away from sunlight and grass.
The 500 sheep travelled a distance of almost 650 miles in July in temperatures in the high 20˚Cs. Animals were packed together so tightly that they could not all lie down at the same time. Philip adds:
The despicable irony is that these sheep must have gone past dozens of slaughterhouses on their journey. Sheffield alone has three slaughterhouses approved for sheep slaughter. Farm animals should be reared and slaughtered as close as possible to the farm on which they are born. Instead these sheep are taken hundreds of miles to a foreign country in very hot conditions to be fattened in sheds.
-Philip Lymbery, CEO
---
UK to Germany – 2013
Journey route: Southern England to Southern Germany
Estimated distance: 590 miles
Estimated time: 23 hours
Animals transported: Sheep
The sheep we trailed to Germany travelled for over 23 hours to reach their final destination – a slaughterhouse just south of Stuttgart in Germany.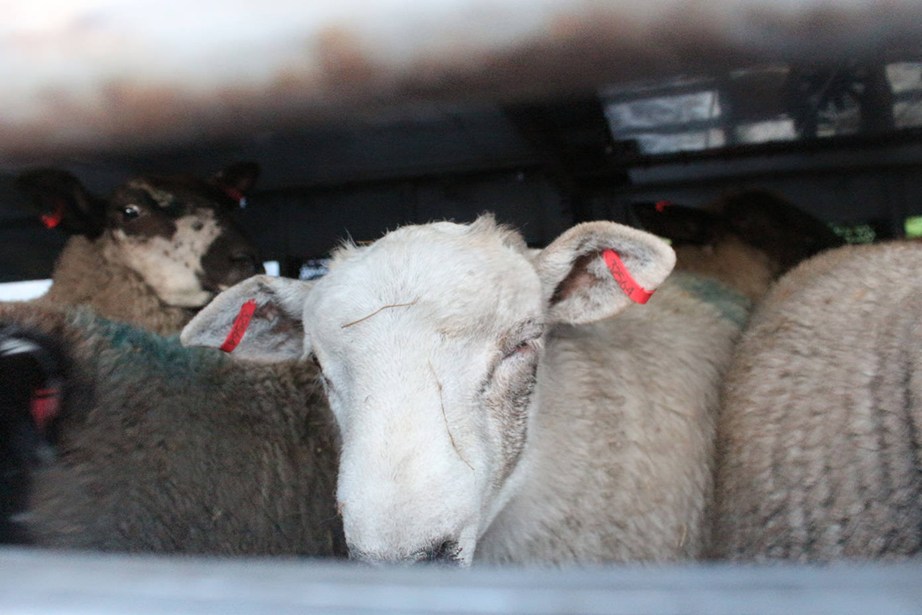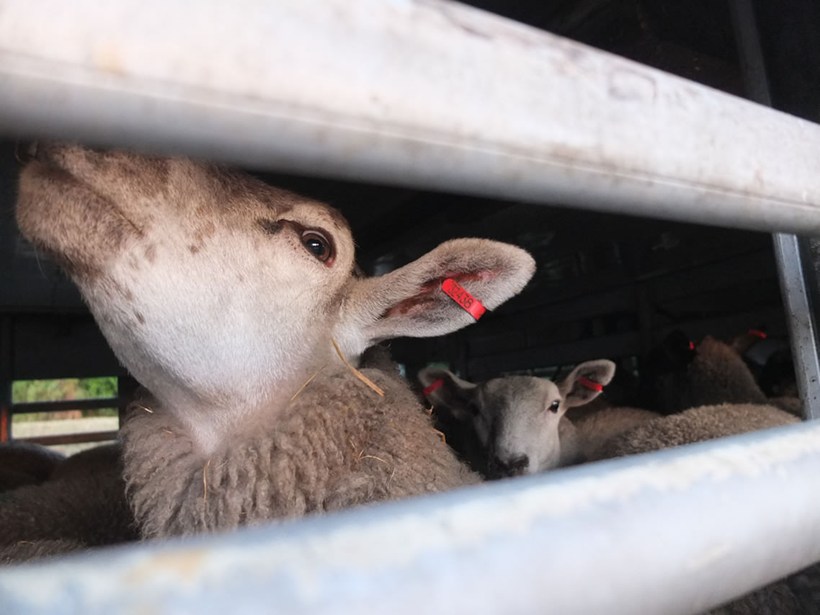 We gathered the necessary evidence to show that the sheep travelled for so long without rest that the driver had broken EU laws on transporting livestock. However, no significant action was taken against the transporter by the competent authority. The sheep were crammed into trucks and showing visible signs of sickness and exhaustion during their journey. One sheep was seen coughing violently for minutes at a time. The vehicle's water system was not working correctly – limiting the amount of water available to these animals, who were being transported at the height of summer.
---
UK to Spain – 2012
Journey route: West of England to Northern Spain
Estimated distance: 1,100 miles
Estimated time: 60 hours
Animals transported: Calves
In late 2011 Compassion in World Farming initiated a series of investigations into the export of live farm animals from the UK. And, in early 2012, generous donations from Compassion supporters enabled our team to continue the campaign, trailing a lorry carrying calves from the UK, through France and into Spain – simply to be fattened for the veal trade.
These young calves were loaded on a farm in the west of England and transported, over a period of almost 60 hours, to a farm in northern Spain.
Please be aware this video contains scenes that some people may find upsetting.
This particular transporter was carrying 166 calves, but often there would be many more on board and conditions would be considerably more cramped. Even so, it looked like the calves were struggling for headroom. They were also trying to suckle each other – demonstrating how young and unprepared they were for this long journey.

I watch the calves being unloaded. They appear to be unsteady and confused, which is not surprising after such a long journey. I also saw one calf being yanked by its tail to get it into the barn.

We calculate these calves have been transported more than 1,100 miles, during a period of almost 60 hours. I am exhausted after this trail, and I simply cannot imagine what it has been like for these vulnerable young animals.
-Investigator
---
From the EU – 2012
Journey route: Hungary & Slovakia to Turkey and Lativa to Iraq
Estimated distance: 3,000 miles
Estimated time: up to 13 days
Animals transported: Bulls
Every year, over 3 million animals are shipped live from the EU to countries outside the EU. These animals often travel in cramped conditions and can experience huge variations in temperature on their journeys, which makes suffering inevitable.
This film features scenes of animal suffering and may upset some viewers.
A massive trade
In the first 8 months of 2014 1,728,288 live cattle and sheep were exported from EU countries to Turkey and a whole range of countries in the Middle East and North Africa regions. Year on year this trade is growing. Inevitably, it means more and more suffering for animals.

Some of the major problems these animals face are:
Severe overcrowding; insufficient headroom during transport
Inadequate ventilation and extremes of temperature
Lack of water
Lengthy delays at border crossings and customs posts
Transport, handling and slaughter conditions that cause immense suffering and would be illegal in the EU.
Hungary & Slovakia to Turkey
Compassion's investigators trailed consignments of slaughter bulls from Hungary and Slovakia to their final destinations in Turkey. In both cases the bulls were kept on the trucks for nearly 60 hours in very high temperatures throughout their journey.
For the first time, our investigators documented lengthy delays for European animals within Turkey. The Hungarian bulls were stopped at a customs post and with no facilities to unload or feed the animals here they remained on the truck for 20 hours. Failures in the automatic water system on board the truck and water troughs full of excrement led to the bulls being given water manually by the drivers using plastic crates. Using electric goads and poles, the drivers became aggressive to the bulls and it is far from clear whether all the bulls were able to access the water.
In the first 8 months of 2014 1,728,288 live cattle and sheep were exported from EU countries to Turkey and a whole range of countries in the Middle East and North Africa regions. Year on year this trade is growing. Inevitably, it means more and more suffering for animals.
The unloading of the second truck was OK until the last bull came down onto the unloading ramp and collapsed; the bull was exhausted and simply could not stand... The bull was then made to walk down the narrow alleyway towards the lairage area of the slaughterhouse - after a few yards the bull collapsed again and could not stand. With this bull blocking the walkway it was not possible for the 3rd truck to unload, again the bull was given water and attempts were made to get it to stand but to no avail.

The man in charge of the slaughterhouse made some calls and a lorry with a crane and winch was brought into the premises. The drivers were asking the slaughterhouse to cut the animal's throat and I was trying to get a veterinary official here to stop more suffering but the crane was used to drag the bull back out of the walkway by its rear legs and back to the unloading ramp. This was clearly causing undue suffering to the bull. Once they had winched the bull back to the ramp a worker cut the bull's throat using a knife that was clearly unsuitable for the job.
-Investigator
Latvia to Iraq
In another alarming incident, documented by an Eyes on Animals/Animal Welfare Foundation team, a truck was transporting bulls from Latvia to Iraq. Having travelled over 2600km to reach the Bulgarian / Turkish border, the truck was delayed at for 6 days whilst the appropriate documentation was obtained from the authorities. Once the truck was granted permission to continue its journey through Turkey, it had a further journey of 2000km to travel in order to reach their destination in Iraq. The end these animals met is not known.
A cruel end
Our former investigators trailed the Hungarian bulls to a slaughterhouse and witnessed the brutal death of one of the bulls too weak to get up after collapsing on unloading. A crane and winch was brought in and the bull was dragged back to the ramp area by its rear legs where it had its throat cut – an inhumane death without stunning. It was then lifted to the slaughter area and butchered later that night.
You can read more about our investigations into inhumane slaughter here.
---
EU to Turkey – 2011
Journey route: EU to Turkey
Animals transported: Sheep and cattle
In 2011 we undertook three investigations at the Turkish border to highlight the plight of animals from European Member States being transported to Turkey. These often animals travelled in cramped conditions in temperatures sometimes reaching up to 58 degrees Celsius. They were often subject to long delays at the border, lasting hours or even days, and in some instances did not survive the journey.
In one case, two trucks carrying Greek sheep were stuck at the border for four days. In all, 14 of the sheep died as a result of this prolonged delay.
Out of 158 inspections, an alarming 67% broke the EU's regulations on the welfare of animals in transport.
Some viewers may find parts of this film disturbing
The sheep and cattle, including tiny calves, come from a number of EU Member States including Hungary, Bulgaria, Austria, Greece, Lithuania, Latvia and Estonia. The trucks carrying the animals are from these countries but also from the Netherlands, Germany, Poland, Romania and Croatia.
Once the animals make it through the border, their ordeal is not over. Many face a further gruelling journey through Turkey to as far away as Erzurum in the east of the country, around 1,500 kilometres from the border.
---
Poland to Italy & the Netherlands – 2009
Journey route: Poland to Italy & the Netherlands
Estimated distance: over 1,000 miles
Estimated time: over 24 hours
Animals transported: Calves
Every year up to half a million male dairy calves are born in the UK, many to be transported long distances to intensive veal farms in Europe as they are often considered an unwanted by-product of the UK dairy industry. But the intensive veal industry also uses calves from other countries in Europe – which means millions more animals face the same cruelty.
In 2009, Compassion in World Farming's former investigations unit went behind the scenes to document one of the biggest trades in live animals in mainland Europe: the long distance transport of hundreds of thousands of calves from Poland to Italy and The Netherlands, where they will be raised for veal in conditions already illegal in the UK.
In 2008, over 1.1 million calves were transported long distances across Europe to reach veal rearing units.