2022: remarkable progress in exceptional times
This has been a year of unprecedented global challenges, but it has also been a year of hope and progress for farmed animals. Together, we've taken huge strides towards a sustainable food system, free from cruel farming.
Your unwavering determination to speak out for the voiceless is inspirational, and your continued support for Compassion's work is overwhelming.
Individual compassion - global action
This year, once again, you've shown how individuals around the world, united by compassion, can work together to transform the future of farm animals.
Compassion supporters took 3,243,056 actions against the cruelty and injustice of factory farming:
You lobbied politicians and policymakers with petitions, emails, letters, public protests and rallies.

You backed urgent appeals and put your creativity and courage to the test through fundraising events and sponsored challenges.

You gave Compassion's campaigns vital tenacity and strength through generous monthly donations.
Whether face-to-face or online, Compassion supporters spread the word for farmed animals reaching MILLIONS:
You continued to take Facebook, Twitter and Instagram by storm. During the 2022 International Awareness Day alone, 37,000 tweets gave #BanLiveExports a potential reach of over 41 million views.
You helped ensure that the call to end farmed animal suffering could be viewed or heard more than 26 billion times globally through TV, radio and press.
There is no doubt that any worldwide goal needs a worldwide movement of passionate people behind it.
Every victory for animals proves that this crucial fight is in very good hands: YOURS.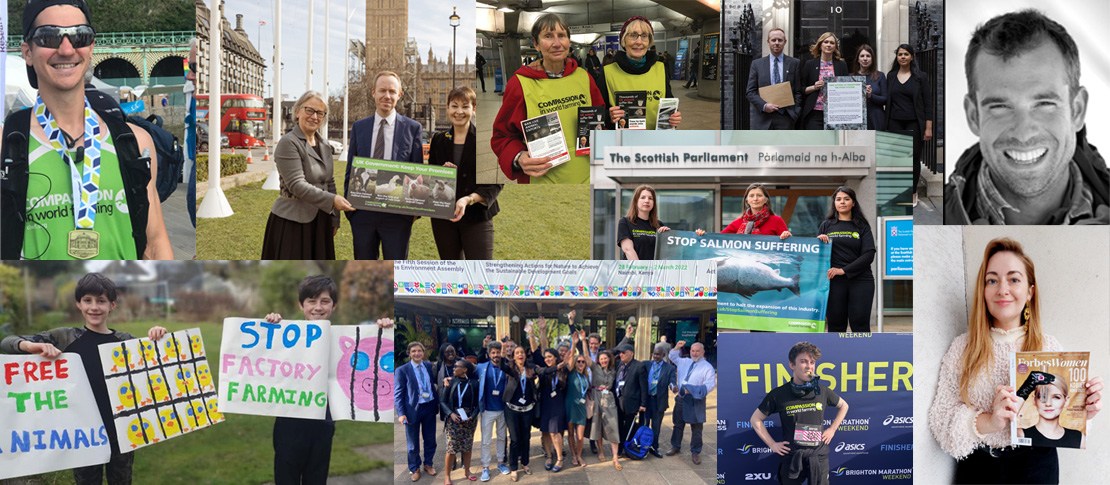 You are a powerful source for change
Governments and policymakers can have a huge impact – good or bad – on the lives of farmed animals. But they don't make their decisions in a vacuum and, throughout 2022, you've helped convince those in power to act against cruel farming.
Transforming Food Business
Over 2.5 billion animals a year are now set to benefit from your backing for Compassion's Food Business programme.
Together, we're helping companies commit to ditching factory farming, and holding them to account for their higher welfare pledges.
Leading a food revolution
Recognition is growing that intensive farming and high meat consumption are a threat to human health and the environment, as well being devastating for animals. We need to transform our food system – and you are leading the way.
A global vision
With your support, Compassion's aim is to drive global consensus that our farming has to change.
We're seeking international commitments – including a United Nations Resolution – to deliver a nature-positive, humane food system. This goal is ambitious but, with your vision and support, we know it's achievable.
In 2023, our 'Extinction or Regeneration' conference will bring together influential policymakers, scientists and cultural figures to explore answers to climate and animal welfare crises.
We'll build a powerful movement of organisations and citizens behind the 'End of the Line' campaign for UN action against factory farming; and we'll press major financial institutions to support higher welfare food production.
And, with each campaign, we win to outlaw animal cruelty, each big food company that commits to cutting meat consumption, together, we'll lay further foundations for a better future – for animals, people and our planet.
Thank you
Compassion's work is dependent on the generosity of those who donate and take action to fight factory farming, protect animals and transform the global food system.
Our thanks to every single individual and organisation who made a gift in the last year, and to all those who have remembered Compassion in their Will.
Income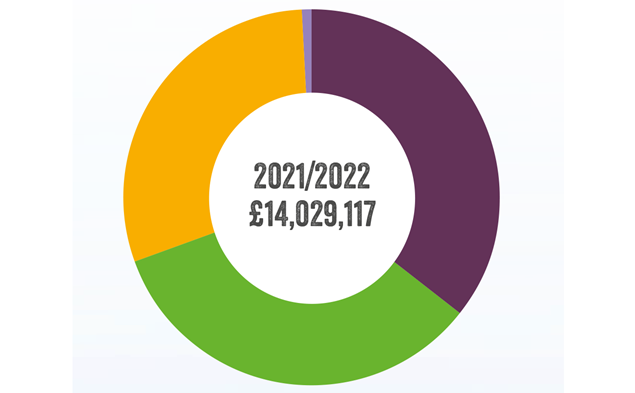 £5,942,139 Major gifts and grants

£4,435,3923 Individual giving

£3,568,617 Legacies

£82,438 Investment income
Expenditure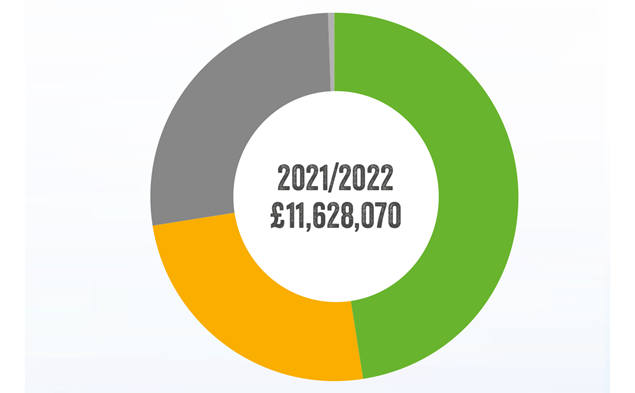 £5,552,327 Campaigning against factory farming

£2,894,547 Transforming food business

£3,146,568 Raising funds

£34,628 Investment management costs
2021-2022 global impact review
2021 - 2022
Save and share your very own digital copy of the Global Impact Review 2021/22 in PDF format.
Download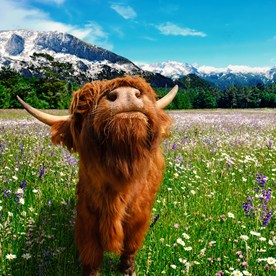 New to compassion?
Please join us!
You'll receive updates on the latest campaign progress, opportunities to help fund the global movement, and be amongst the first to hear about new actions you can take to help give farm animals a life worth living.
To see how you can act against factory farming, make a donation or regular gift, or learn about leaving a legacy for future generations of farm animals:
Photo credits: © iStock, © CIWF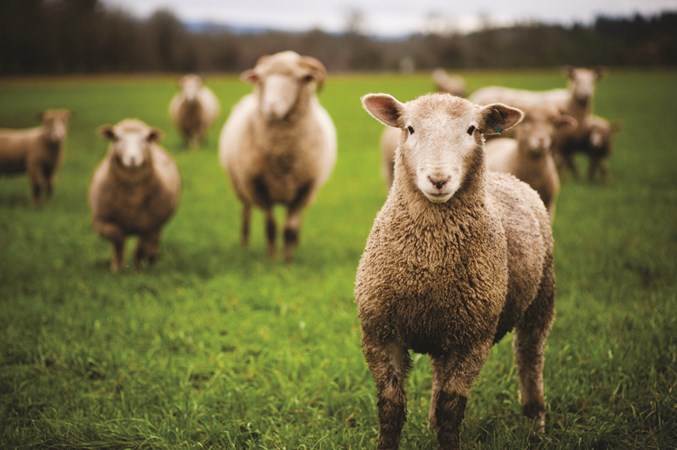 For just £6 a month you can help end the biggest cause of animal cruelty on the planet.
Join us today