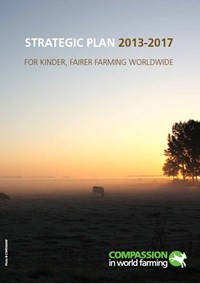 Founded by a farmer
Compassion in World Farming was founded in 1967 by Peter Roberts, a dairy farmer who could see first-hand how the demand for supposed cheap food was having a devastating effect on farm animals and human health.
Since its beginnings, Compassion has been making a difference to the lives of millions of farm animals in the UK and throughout Europe. Against a multicultural, rapidly changing, economically challenging backdrop, we have made sure that animal welfare is represented on the political agenda; we have won battles to ensure animal welfare is protected by law; we are influencing change in the way animals reared for food are perceived by consumers and food suppliers; and we are being joined by leading voices from the environmental, humanitarian and scientific communities to challenge intensive, industrialised farming.
Feeding the world without factory farming
Whilst we still have a great deal to achieve in Europe, we are in a position where we can build on our experience and achievements and start challenging the world. We have to stop the spread of factory farming, before it is too late. The world's population now exceeds seven billion; in just five years, the number of farm animals reared for food globally has risen from 60 billion a year to just over 70 billion. Two out of three farm animals are now reared intensively. Increasingly, people are asking how do we feed the coming population of nine billion expected by 2050? The answer lies in recognising that we currently produce enough food for 10-12 billion. Yet, more than half is wasted, not least by feeding perfectly good food to factory farmed animals. Yet one billion people are starving, whilst another one billion are overweight. The world is out of balance. Factory farming is at the heart of our problems, not the solution.
Join our 21st Century agricultural revolution
This five-year Strategic Plan sets out how Compassion intends to spearhead an urgently needed 21st Century agricultural revolution to end all forms of cruelty associated with 'modern' intensive factory farming and implementing a kinder, safer, fairer model of humane sustainable farming that works for animals, people and our planet.
Philip Lymbery
Chief Executive