Case study to help students understand the advantages and disadvantages of selective breeding and its ethical implications.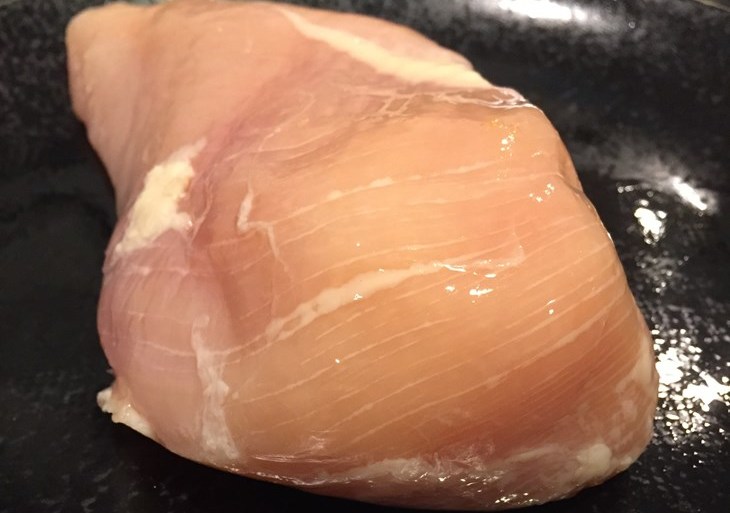 The chicken breast in this picture has white stripes. Some of the muscle fibres have died or degenerated. Programmed for fast growth, the muscle's blood supply was not sufficient to provide enough oxygen to support its development.
The muscle has been replaced by fat and connective tissue. This is called WHITE STRIPING. It is a recognised muscle disorder in modern farmed chicken. It is a consequence of selective breeding for fast growth and larger breast muscles.
If you look at chicken breasts on sale in supermarkets, you are likely to find that white striping is common in standard intensively-reared chicken breasts, though the stripes are usually finer than in the photograph above. More than 90% of UK chickens are intensively-reared.
In a similar way, chickens grow too fast for their joints, resulting in painful lameness. They grow too fast for their heart and circulatory system, resulting in chronic heart failure. Chickens become very inactive.
Fast growth helps to produce cheap chicken using less feed, but at a cost to the welfare of the chicken and the nutritional and health benefits of the meat. Are there better ways of feeding people efficiently with more nutritious food?
This set of resources helps students to identify white striping in chicken breasts and to consider the advantages and disadvantages of selectively breeding chickens for fast growth. It facilitates a practical homework – a survey of supermarket chicken to see if white striping is equally prevalent in standard intensive vs higher welfare chicken breast fillets.
The resources
We are planning more resources on white striping. Please tell us what would be helpful at education@ciwf.org.uk. Please watch this space.
Films & other resources on selective breeding
Farm Animals & Us 2 film. Includes a short 3-4 minute section on chicken farming, 5 minutes 48 seconds in, to stimulate discussion and widen their understanding of intensive chicken farming and its alternatives.
Farm Animals & Us film. 17 minute film discussing intensive animal farming and its alternatives in pigs, hens, chickens and cows. It includes a section about intensive schooling where students role-play the lives of intensive chickens. You can also use the longer 25 minute film above, especially for abler students.
We have a wide range of resources for secondary science and food technology education here.