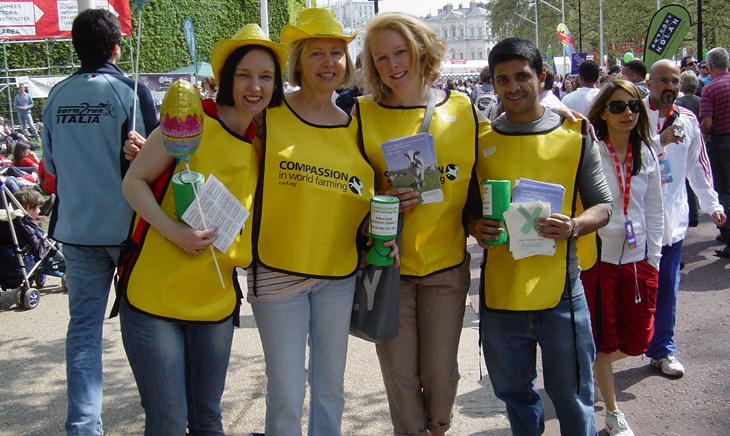 Getting involved in a local group is a fantastic way to discover like-minded people in your community. Our local groups network really is a fantastic driving force for change, and its members have great fun too! Joining a local group is an opportunity to get active with other supporters who really care.
Local groups are an essential part of our fundraising and awareness-raising work. From street collections to bake sales, sponsored events to community fairs, spreading the word of Compassion has never been more exciting.
Being part of this community is a great way to help end the suffering of farmed animals in the UK and worldwide, and here at Compassion, we are committed to helping you do this.
From large groups to smaller teams, local groups share our vision of a world where farm animals are treated with compassion and respect and the cruel practices of factory farming come to an end.
Find a local group in your area
Email the Supporter Engagement Team to get in touch with any of the groups below, or click on the pins on the map to find details of how to contact the groups directly.
Wales
Group

Area

South West

Compassion in Gloucestershire
Gloucestershire

London & the South East

CIWF Brighton
Brighton area
Compassion in London
London
Compassion in Mid Sussex
Haywards Heath area

Eastern

Compassionate Norfolk
Norfolk area
Compassionate Suffolk
Suffolk area
Compassion in Swansea
South Wales

North West

CIWF Manchester
Manchester

North East

Compassion in Newcastle
Newcastle
Whitby Compassionate Food
North Yorkshire, Whitby area

Keighley and Worth Valley CIWF Volunteers

Yorkshire
Compassion in Sheffield
Sheffield

Ireland

Ethical farming Ireland
Republic of Ireland

Scotland

Compassion Edinburgh - Local Volunteer Group
Midlothian Area
No group in your area? Why not start one?
Whether you are an experienced fundraiser or you have never done anything like this before, we will support you and your group every step of the way!
The reason we decided to start forming local groups was to create a support structure for our volunteers. Bringing people together in local areas helps form tight knit support groups and forges relations with like-minded people in local communities.
Running a local group involves as much or as little as you would like it to. We do not ask for specific time commitments and are keen for you to support us in whatever way you like.
If you have the passion, enthusiasm and commitment to help us make change for farm animals please contact our Supporter Engagement Team and kick start the movement in your area.
You may already be part of a group, in which case please let us know the details and we can direct future supporters your way should they wish to get actively involved.
Volunteer handbook
Whether you are joining a group or starting your own we want to welcome you to Team Compassion! Please take a few moments to read our Volunteer Handbook and fill in the application form. Thank you for joining us in the fight against factory farming.