One of the points when farm animals are at their most vulnerable is at slaughter. While we believe that slaughter can be carried out without causing excessive pain and suffering, there is also potential for unimaginable levels of suffering at this time.
Compassion's investigations into slaughter have revealed the treatment animals can face just prior to and at the time of death. We've found evidence of violent and careless handling, painful restraint, ineffective slaughter methods and animals spending those last moments of their lives in fear and agony.
Our former Investigation Unit uncovered poor slaughter practice as part of a number of wider investigations into factory farming systems. In some cases the abuses we found made it essential to release the investigations as evidence in their own right.
Gadhimai Slaughter Festival – 2014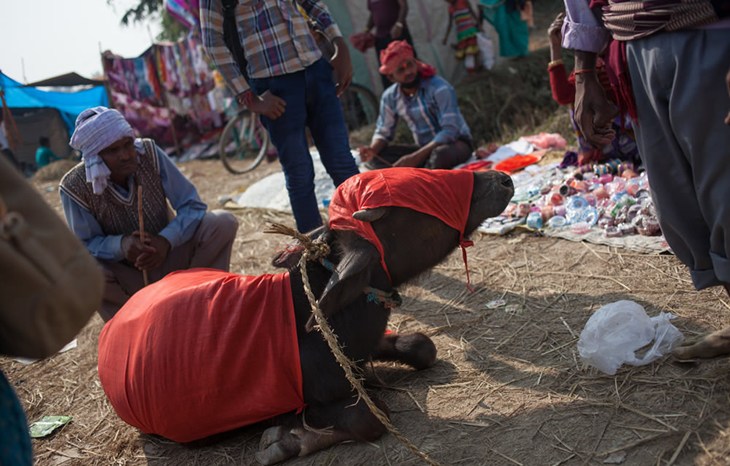 As part of an international campaign against the inhumane slaughter of animals at Gadhimai Festival, our investigation unit travelled to Nepal to document the conditions and treatment of the animals.
Although the number of animals was reduced by around 75% since the previous festival in 2009 (due to the determination of Compassion's supporters as well as other NGOs around the world), the investigators' account and images might be very distressing to some people. If you wish to learn more, you can read our picture story on the festival here.
---
EU to the Middle East – 2013: The fate of exported European animals
When meat is imported into the European Union the law stipulates that the animal must have been slaughtered in line with EU legislation. However, when EU animals are exported, the same rules are not afforded to them and instead they face brutal treatment and long drawn out slaughter.
A vast number of Europe's exported livestock goes to the Middle East where Compassion's 2014 investigation, in partnership with Animals Australia, uncovered immeasurable suffering. When European farm animals are exported to non-EU countries every shred of protection they once received in their place of birth is rendered meaningless. After enduring long, exhausting journeys by land and sea they may face terrifying ordeals at slaughter. Animals are dragged by their limbs, bound up with ropes, pinned down by groups of men, beaten with metal rods, suspended upside down for extended periods of time, and eventually slaughtered in unacceptable ways that leave them conscious for many minutes after having their throats cut.
Please take a moment to watch our investigation film and find out more about this deplorable trade. Please be warned; some of this film is distressing to watch, but it is essential concerned citizens find out where European animals are ending their journeys.
The Fate of Exported European Animals
Warning: Due to the content of this film you may need to confirm you are over 18 in order to view it
The European Commission has the power to ban this trade, as it has other unethical trades, but as each day passes without action more and more animals continue to suffer.
---
Slaughter at Beirut's biggest abattoir – 2013
In 2013, as part of our investigation into the fate of exported EU animals Compassion witnessed animals being subjected to brutal slaughter conditions in Lebanon.
Compassion Investigates: Beirut Public Slaughterhouse, Karantina
Please be warned, scenes in this video are distressing.
Horrific conditions exposed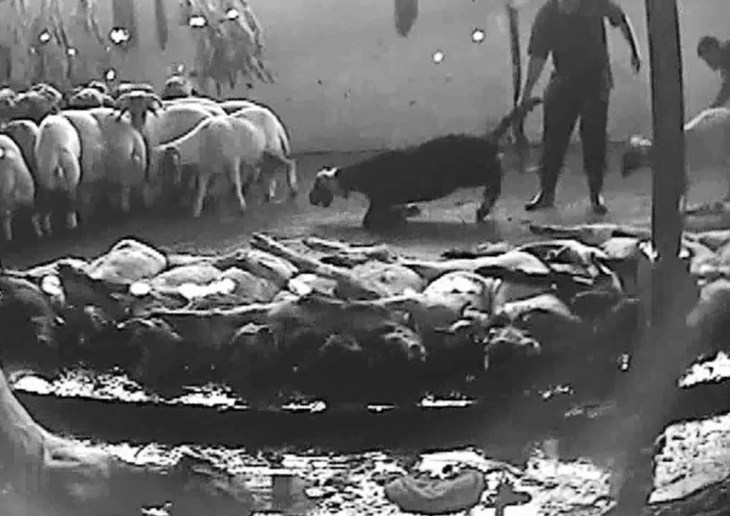 At the Karantina slaughterhouse in Beirut, which supplies a third of the meat in the Lebanese capital, animals were being picked up and slammed onto their backs on the concrete floor, where they were held down as their throats were cut while they were fully conscious. Sheep were dragged by one hind leg to a line where they are slaughtered alongside others that were thrashing around in blood and faeces.
Time stood still while I watched sheep after sheep meet its end. It seemed to go on forever.
-Investigator
The treatment these animals face contravenes the guidelines of the OIE (World Organisation for Animal Health) of which Lebanon is a member.
Karantina investigator's account
"The sheep were led across the slaughter area, forced to jump over the body of a half-skinned cow and cross large gutters filled with blood and other waste. Once gathered at the other side of the slaughter house the sheep, one by one, were taken by the feet and flipped violently onto their backs. They were lined up, pushed against each other and restrained by workers' feet to have their throats cut. In the struggle sheep were slipping and slamming their faces and chests on to the concrete. The waiting sheep were clearly terrified and pushed against the rest of the flock in an attempt to get away from the slaughter line. Time stood still while I watched sheep after sheep meet its end. It seemed to go on forever."
"Two huge bulls were led from the holding area to the slaughter area, pulled forwards using ropes around their necks. The bulls fought back desperately, they slipped and fell multiple times and repeatedly smashed their faces on the concrete. Meanwhile their legs were getting caught in the bars of the walk way and in the gutters. The staff were shouting and yelling at them and violently hit them with metal bars. One bull was held back by its tail. They were then hoisted up from a hind leg but fought to remain upright. Ropes around their necks were then used to drag the animals into position. In their final moments the workers held the animals' heads back, to cut the throat, by grasping their eye sockets violently. This is some of the worst slaughter I've ever witnessed."
---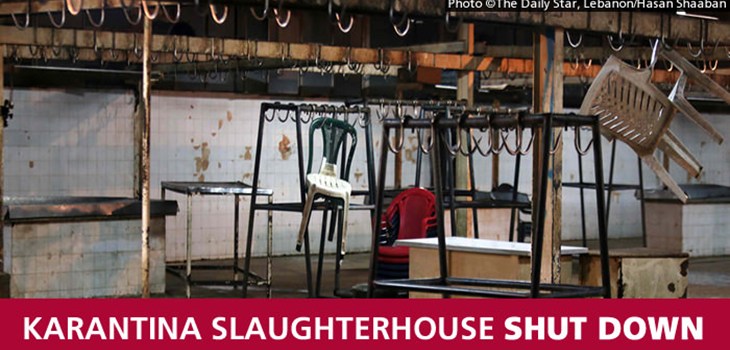 Update January 2015: During December 2014 Compassion attended several meetings in Beirut with government officials to discuss and advise on the animal welfare issues at Karantina and the potential next steps that must be taken to reduce animal suffering. Officials were positive about the importance of improving animal welfare in any new set up and have said they will keep Compassion involved as the situation develops.
Update November 2014: We are delighted to report that the Karantina Slaughterhouse has been SHUT DOWN. This is a fantastic result for Compassion supporters, following our 130,000 strong petition and extensive lobbying efforts. We wait to hear how long the shutdown will last, and what the plans are for the future. But right now, the Karantina slaughterhouse, one of the cruellest we have ever borne witness to, is empty.
---
Illegal slaughter of animals in Cyprus – 2013
The shocking cruelty found in Cyprus is indicative of the untold story of how many problems exist at slaughterhouses. With it, a broad picture of non-compliance emerges.
Cyprus slaughter footage 2013
Please note that there are scenes that viewers will find extremely disturbing.
At a local slaughterhouse, goats and sheep were slaughtered in horrifically cruel and illegal conditions.
The goats were chained by their rear legs, and whilst fully conscious, hoisted up, dangling upside down and bleating piteously. It was only at this stage that they were stunned. It is illegal to suspend or hoist conscious animals. In many cases the stunning was ineffective due to lack of training and/or knowledge.
To add to the horror, a slaughter man begins to cut the goats throats and immediately after, a second man cut off their horns. It is unlikely they were dead at this time and would have felt an extreme amount of pain.
This is some of the worst European slaughter footage I have ever seen. What is so disturbing is that new EU slaughter regulations came in this year - and they are being largely ignored.
Peter Stevenson, Chief Policy Advisor
Some goats that had been stunned were left waiting for over three minutes before having their throats cuts. It is likely that they would regain consciousness in this time and therefore be awake when their slaughter took place. Most of the sheep were slaughtered without first being stunned.
These problems need to be addressed urgently and we have sent a formal complaint to the Cypriot Minister of Agriculture. The new laws need to be followed in full to prevent the horrific cruelty that is currently being inflicted.