Getting sponsored for farm animals
Are you interested in becoming a sponsored superstar for farm animals, but not sure where to start? We have compiled a list of fantastic events: from marathons to fun runs, and cycle events to obstacle courses. Please take a look at the interactive map or lists below for inspiration.
Set up a fundraising page Download our sponsorship form
Interactive events map
Click on a pin to see an event's details. Filter the map using the 

button in the top left.
| | | | | | |
| --- | --- | --- | --- | --- | --- |
| | Marathons, half marathons and 10Ks | | Fun runs and colour runs | | Cycling |
| | Walks and treks | | Swimming | | Other challenges |
Our charity places
Please see the below list for our current charity places at events across the UK. If you are interested in gaining one of these places, or if you have any questions about getting sponsored, we'd be delighted to help you! To express interest or to apply for one of our places please get in touch via our contact form
Brighton Marathon 2023 - 2 charity places available
Other ways to get sponsored
If you don't fancy running a Marathon, there are still plenty of ways to get sponsored for farm animals. Below, we've added some of our own ideas to help get you started. If you have your own ideas, we'd love to hear them – no matter how weird or wacky they may be!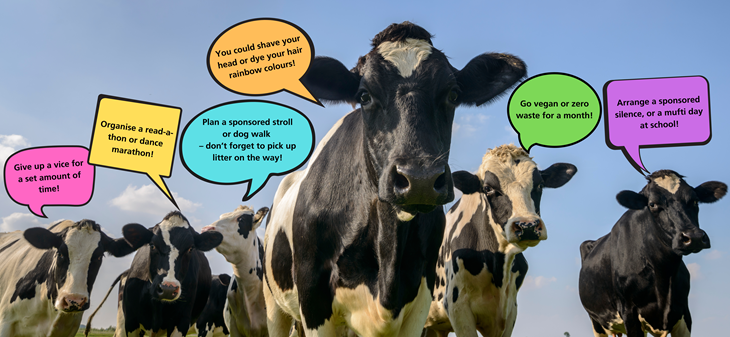 Get in touch
Don't forget to get in touch  if you're taking on a challenge to fight factory farming. From help with your sponsorship page to celebrating your success, we're here to support you every step of the way!
Sponsored events list