You can show your support for Compassion by buying branded merchandise, making a celebratory gift to a loved one or raising money whilst you shop on your favourite websites.
Online shop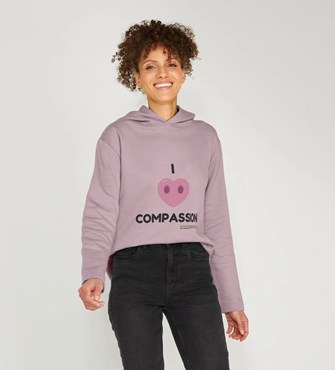 We're excited to announce a brand-new line of Compassionate clothing and fabric accessories.
100 billion items of clothing are made every year. Three out of five of the t-shirts made today will end up in landfill within 12 months and it's often wildlife and the natural world dealing with the direct fallout rather than humans. This is why we've made our Compassion in World Farming fashion range in a new way.
Each piece of clothing or tote bag you buy is printed to order and made from certified organic cotton, powered by renewable energy, and most important; designed from the start to be sent back to our partner Teemill for remanufacturing at the end of its lifecycle. Part of the world's first circular economy for fashion where there is no waste.
Wear your support for farmed animals and help the planet too!
The Pocket Companion to the Countryside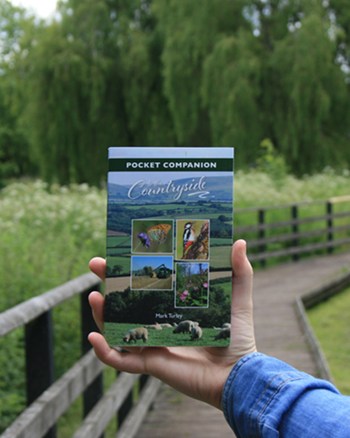 This fantastic guide to British flora and fauna is the perfect companion to your countryside walks. With helpful photos and information throughout, you can connect with nature and add new interest and insight to your adventures whilst supporting farm animals.
Created by Compassion supporter and former journalist Mark Turley, all proceeds are being generously donated to Compassion in World Farming to help end factory farming.
With limited stock available why not order your copy today for just £13.99 (including UK P&P) and let your love for nature help improve the lives of farm animals.
Celebratory Giving
Giving a gift of Compassion is a unique and meaningful way to mark a special occasion, whether it's a birthday, wedding or anniversary.
When you make a donation of at least £15 to Compassion in World Farming, your nominated friend or relative will receive: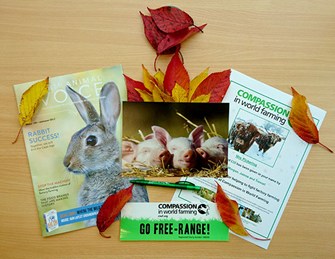 A hand-written card from us (card may vary)
A gift certificate
A Go Free-Range window sticker
A Compassion pen
A year's subscription to our Farm Animal Voice magazine (2 issues)
(please be assured that they will not receive any other communications from Compassion unless they request it).
This is the perfect way to celebrate those special occasions whilst supporting Compassion's vital campaigns to improve farm animal welfare.
Donating to Compassion in lieu of buying a gift couldn't be easier – simply telephone us on + 44 (0)1483 521 953 to make a donation or to find out more.
Fundraise for Compassion as you shop!
Give as you Live

Give as you Live is an application that allows you to support Compassion whilst you carry out your every day online shopping. At no extra cost to you, using the application whilst you buy online ensures that Compassion receive donations from the retailer.
Thousands of stores have signed up to this new kind of charitable giving and have agreed to donate to charity every time you shop.
All you need to do is go to www.giveasyoulive.com/charity/compassioninworldfarming, download the application, select Compassion as your chosen charity and start shopping!
How Give as you Live works
eBay for Charity
eBay for Charity is an easy way for buyers and sellers to improve the lives of farm animals. Buyers can shop for items knowing they're supporting a good cause. Sellers, whether they're individuals or businesses, can donate a percentage from any sale to a charity of their choice and add Gift Aid to their donations.
People shopping on eBay can find items where all or part of the proceeds will go towards Compassion.
Or, if you sell items on eBay, please consider opting to donate a percentage of the sale to the fight against factory farming.