Education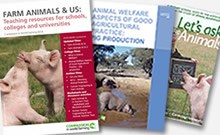 Order resources
Our education resources
Compassion in World Farming produces educational resources for teachers and students which are either freely available or competitively priced. These include videos, teaching activities and packs, information booklets, web-based software and more. Most can be downloaded or ordered without charge.
We also provide a free speaker service for schools, youth clubs, colleges, universities and adult groups in the UK.
Find out more about what we offer.