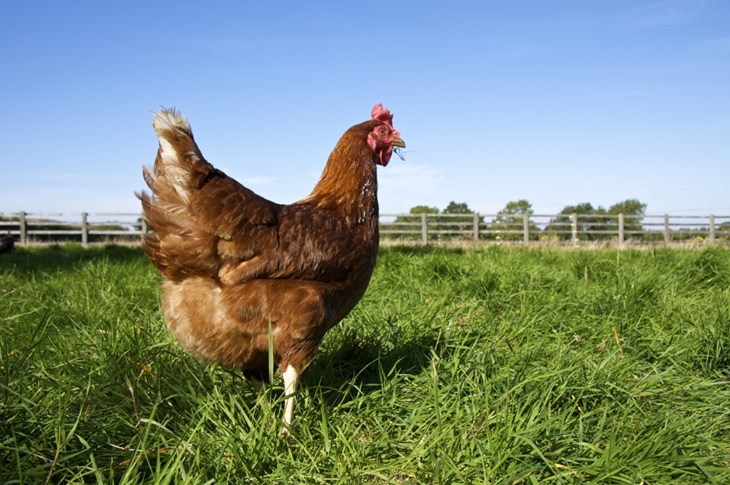 Caged farming in Europe should be banned as soon as possible and there is no reason to delay. That was the clear message Compassion gave to the European Commission yesterday (9th December), at its the "EU Animal Welfare Today & Tomorrow" conference.
Speaking at a panel discussion on the use of cages in animal farming during the Brussels event, our Head of EU, Olga Kikou, urged "as short a transition period as possible" in a discussion on phasing out the use of cages following the EU Commission's commitment in June to phasing out cages in animal farming by 2027
She said: "We need to ban cages as soon as possible as these represent a cruel system that doesn't belong to our present society. We can learn lessons from the past. The phaseout of barren battery cages for hens took longer than planned and even after the end of a long transition period many Member States still didn't comply with the law. [For the phaseout of all caged systems] we need to implement a transition period that is as short as possible, and we need to be strict about it."
The day-long event consisted of a series of interactive panels, each representing an animal welfare issue to be addressed by the undergoing revision of the EU animal welfare legislation. It also created a platform for a variety of stakeholders, including members of the public, to speak about the phasing out of cages, in addition to welfare at farm level; labelling; transport; and slaughter.
World-renowned ethologist and conservationist, Dr Jane Goodall DBE, who was a special guest at the event, emphasized to delegates that we must take better care of our planet and that animal welfare is an ethical issue. She said: "It's not only animals that I'm concerned with in the industrial farming, it's the terrible effect on the environment, the loss of biodiversity and the reliance on pesticides."
No place in present society
During the panel discussion on cages, Olga explained the balancing act that must take place: "On one hand we see what farmers want and Member States always try to in a way please the farmers, but they need to listen to their citizens too. If something is cruel and does not belong to our society, we shouldn't have it."
Hugely encouraging
Members of the public and other stakeholders raised crucial issues, including the importance of striking a balance between improving farmed animal welfare through legislation while continuing to support economic development.
Fish forgotten again
Concerns remained, however, that there were animals missing from the conference: a majority of viewers responded to a poll asking Which animal species, if any, is most lacking sufficient protection today? with 'fish', highlighting the concerning lack of legislation protecting fish during farming, transport and slaughter.
During our recent webinar, "The need for welfare legislation for aquatic animals" on 1st December, speakers discussed the sentience of aquatic animals - their ability to feel pain, fear and stress - as reasons why welfare EU legislation is needed. Unfortunately, in spite of the undeniable need for legislation protecting fish, these forgotten farmed animals were absent from the proceedings.
Rousing words
Legislators also expressed their support:
Stella Kyriakides, Commissioner for Health and Food Safety, said: "[The] End the Cage Age has really shown the positive impact that ECIs can have on decision making processes and laws within the EU and I am personally very happy and proud that I was part of such a positive commission response."
MEP Anja Hazekamp, President of the Animal Welfare Intergroup and co-chair of its cage-free working group, said: "When we talk about animal welfare in the European Union, it is almost impossible to discuss this topic without hearing someone argue that the EU has the highest animal welfare standards in the world. And I think the problem with this statement is that it is being misused to sit back and relax and pretend that animals live a happy life and a joyful life on a farm…This is not the reality."
The conference provided a useful platform for citizens to raise their concerns about the current state of animal welfare legislation in the EU, in particular the need to stay on schedule during the phase out of cruel cages.
Find out more about our campaign to End the Cage Age here.