On 5th May 2022, Compassion in World Farming submitted a petition signed by over 53,000 compassionate people to 10 Downing Street and the leaders of the top meat and dairy consuming countries and regions. The petition called for urgent action to transform our food system to tackle the climate crisis.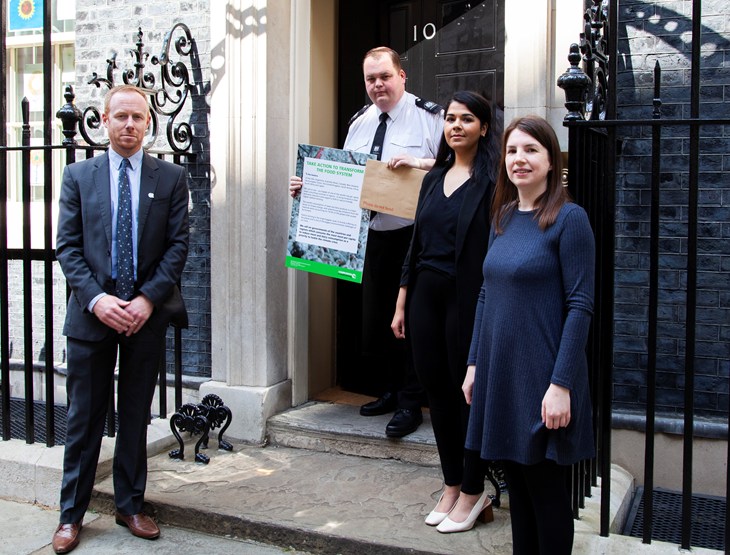 Around 88 billion animals are farmed globally for food each year, with the majority being kept in intensive systems. As well as being the single biggest cause of animal suffering on the planet, factory farming is also one of the biggest environmental challenges of our time.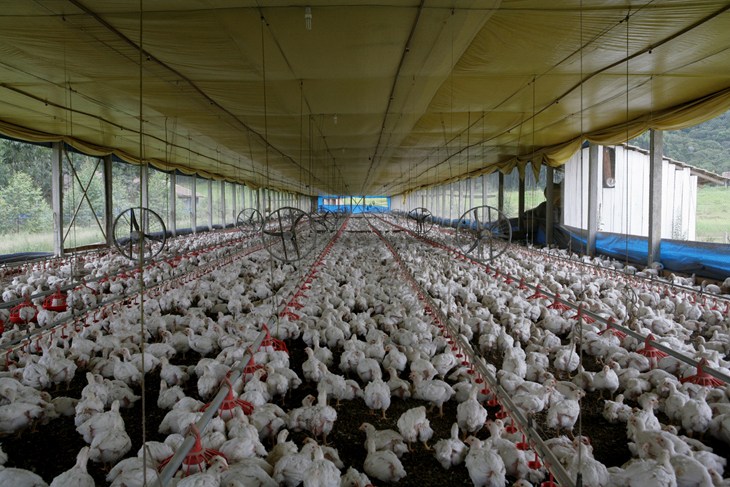 If we are to tackle the current climate emergency, protect the natural world, and meet our emissions reduction targets then, as a matter of urgency, we must significantly reduce total global meat and dairy consumption.
In November 2021, Compassion in World Farming was at COP26, the UN Climate Change Conference, in Glasgow speaking to delegates from around the world about the way factory farming leads to climate change and urging immediate action to tackle it.
Climate change's forgotten sector 
The world's current consumption of meat and dairy products is a major driver of climate change. Greenhouse gas emissions from livestock farming account for 14.5% of the global total caused by humans. That's more than direct emissions from the transport sector. Yet, to date, livestock and diets have been climate change's forgotten sector.
To meet the targets of the Paris Agreement and limit global warming to 1.5 degrees Celsius, all sectors need to reduce their emissions – including food production.
Global Meat Consumption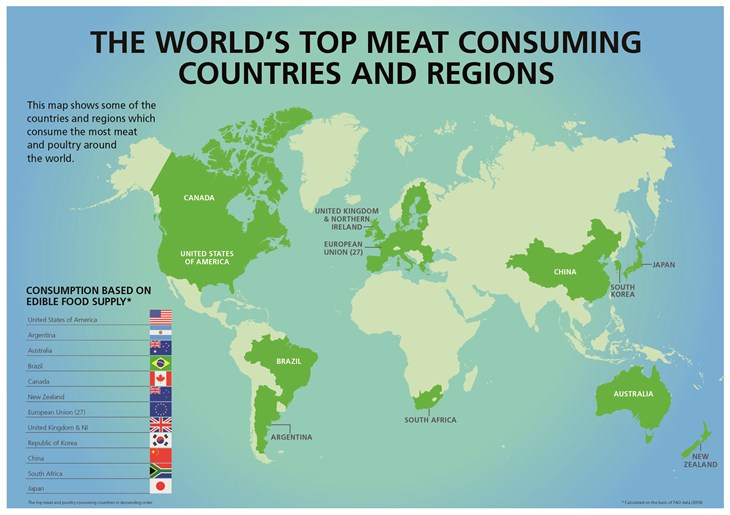 This map shows the countries and regions with the highest meat consumption per capita. To reduce our meat and dairy consumption, we need national governments and international institutions to transform our food system.
They must act now to secure a better future for people, farmed animals, wildlife, and the planet.
How to fix our food system
To tackle the climate emergency, we need most governments around the world to commit to immediate global action to reduce meat and dairy consumption and move towards sustainable, healthy food systems which:
Farm fewer animals.
Rear the remaining animals in higher welfare and nature-friendly farms such as organic, pasture-fed, or mixed crop and livestock systems.
These food systems will improve the health of people as well as animals, by lowering the risk of disease and antibiotic resistance. They are also essential to prevent further biodiversity loss.
It's important the reduction in meat consumption must largely take place in the developed world and the wealthier emerging economies. People in poor countries should be able to increase their meat consumption.
Here's how you can help
Find out more by reading our new report Breaking the Taboo: Why Diets Must Change To Tackle Climate Emergency.
Make a donation to Compassion today.
Sign up for email updates on our food systems work and other Compassion campaigns.