26/07/2017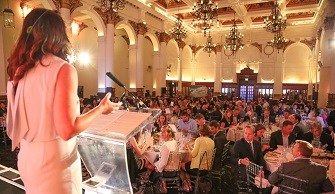 I am thrilled to share with you my latest podcast, taking you behind the scenes of Compassion's Good Farm Animal Welfare Awards (GFAWA), held earlier this month in London, where leading food businesses from across the globe were celebrated for their commitment to improving animal welfare standards.
It was a particularly special celebration at this year's awards as 2017 marks not only the 10th anniversary of the GFAWA, but it is also Compassion's 50th year anniversary. This episode features interviews with some of the attendees and winners at the event.
Environmental journalist and broadcaster, Lucy Siegle, who hosted the event, highlighted how through the efforts of Compassion working with award winners, "major strides are being made in improving the lives of millions of farm animals and in positively changing the attitudes of the global food industry towards farm animal welfare."
Highlights, featured in the podcast, include the Retailer Awards which recognise supermarkets that are leading the way in farm animal welfare, innovation and performance, and the introduction of the Cage Free Award which celebrates companies that have made the momentous commitment to eliminate all cages from their business for all species.
Compassion was delighted to award five companies the Cage Free Award at the ceremony including, the Jamie Oliver Group (global), Pret (global), Whole Foods Market (US), Waitrose (EU) and Marks & Spencer (EU). On the podcast you'll hear comments from Daniel Nowland of Jamie Oliver Group and John Isherwood of Pret on their wins!
In the Retailer Awards category, the podcast features an interview with John Gregson of Waitrose, which was awarded both the Best Retailer Marketing Award and overall Best Retailer Award. Recognition was given for their 'Everything we do goes into everything you taste' campaign, focussing on their dairy grazing pledge, which has increased from 100 to 120 days, and on their eggs which are free-range for both shell eggs and the eggs used in their products as ingredients.
We were especially delighted to award Tesco for Best Innovation for their leading work to introduce a humane slaughter system for sea bass and sea bream into commercial practice. Listen on the podcast to Hannah Doneghan explaining how Tesco rejected the commonly used method of chill-killing conscious fish, which can take up to 10 minutes before unconsciousness and death occurs, instead working closely with their farmers and processors to develop a more humane and rapid process.
Dr Tracey Jones, Director of Food Business at Compassion also features, commenting on how our food business programme has evolved and expanded over the years and its significant role in change.
I am so proud of the collaborative work of my food business team with industry that is making such a difference to the lives of farm animals.
The 2017 award winners alone are calculated to positively impact the lives of nearly 100 million animals each year and together with previous awards winners, other partnership projects and more recently the groundswell of corporate pledges, more than 1 billion farm animals are set to benefit every year. This is a fantastic achievement and brings us ever closer to our ultimate goal of ending factory farming.