Witness the true cost of cheap meat
Our short film highlights the key moments from our three-year journey behind the closed doors of the factory farm industry.
Our food system is broken
For decades, our farm animals have been disappearing from our fields as our food industry has gone global. Every year, we farm nearly 70 billion animals for meat, milk and eggs. By the time you finish reading this sentence, around 4,000 farm animals will have been slaughtered.
We no longer know for certain what is entering the food chain and what we are eating – as the UK horsemeat scandal demonstrated. Most farm animals are now raised in factory farms – intensive systems that produce vast quantities of seemingly cheap meat, milk and eggs. But this industry endangers everything we hold dear: our health; our livelihoods; our countryside; the welfare of animals. Find out more about the dangers of factory farming.
Exposing farmageddon
Compassion in World Farming CEO, Philip Lymbery has joined award-winning journalist Isabel Oakeshott to tell the story of our global farming system gone mad. We've called this story Farmageddon: The True Cost of Cheap Meat.
Fascinating and terrifying in equal measure, Farmageddon documents an investigative journey behind the closed doors of the factory farming industry. It busts the myth that factory farming is needed to feed the world. With stories from the UK, Europe and the USA, to China, Argentina, Peru and Mexico, the book shows that none of us are safe from the factory farming machine.
Farmageddon is both a wake-up call to change our current food production and eating practices and an attempt to find a way to a better farming future.
Praise for Farmageddon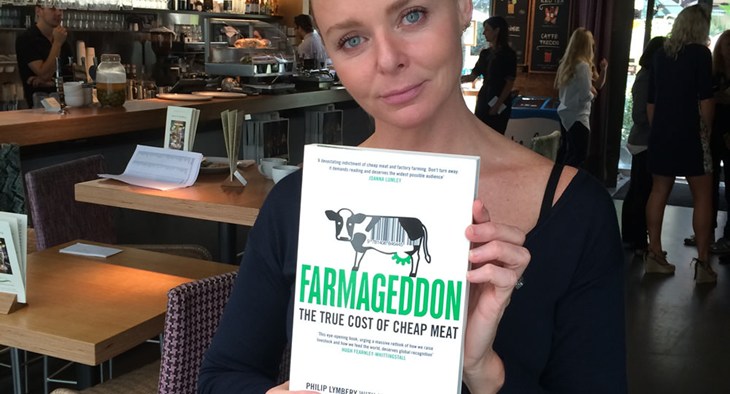 Thanks to campaigners such as Philip Lymbery, the truth about factory farming has been laid bare.
Wasteful, cruel and inefficient: mega-farming threatens us all, warns this study.
[Farmageddon] is not a vegetarian rant. It is not anti-meat. But it is an unforgettable indictment of the new hyper-industrialised agriculture ... We've lived with factory farming for a long time and we probably thought it couldn't get any worse. But it can – if we let it.
The pun in 

Farmageddon is fully justified: agriculture has seriously lost its way and since it sits at the heart of all our lives - and the lives of all other creatures - this places the whole world in danger ... Farmageddon

 is an excellent book

.
There have been numerous attempts by celebrity chefs to try to inform children about where their food comes from. But maybe instead of encouraging cookery classes in schools, we ought to be teaching them about what is in their food. It might not be nice, and it might not be pretty, but surely it's kinder in the long run if the next generation knows what, exactly, they are using to fuel their bodies.
This survey of the effects of the intensification of agriculture around the world is at once committed, balanced and appalling.
Lymbery brings to this essential subject the perspective of a seasoned campaigner – he is informed enough to be appalled, and moderate enough to persuade us to take responsibility for the system that feeds us.
Tristram Stuart, The Guardian
Billed as a "wake-up call to change our current food production and eating practices", the book Farmageddon makes the case against 'factory farming'.
…likely to reignite the debate about large-scale farming as well as the pros and cons of 'sustainable intensification'.
This eye-opening book – urging a massive rethink of how we raise livestock and how we feed the world – deserves global recognition.
Hugh Fearnley-Whittingstall, writer, broadcaster and campaigner
A devastating indictment of cheap meat and factory farming. Don't turn away – it demands reading and deserves the widest possible audience.
Joanna Lumley, actress and activist
Offers the kind of realistic and compassionate solutions on which our prospects for a truly sustainable world depend.
Jonathon Porritt, writer, broadcaster and commentator
Potentially a game-changing book...The more people who read Farmageddon the more likely we are to get a bit of common sense in our food system.
Zac Goldsmith, Conservative MP (Richmond Park & North Kingston)
Farmageddon outlines a really nightmarish vision of factory farming and the harm that it does to the environment, to animals, to human health. This book shows us the way.
Caroline Lucas, Green party MP (Brighton Pavilion)
This incredibly important book should be read by anyone who cares about people, the planet, and particularly, animals.
Jilly Cooper, author
Farmageddon: No birds. No bees. Our countryside laid waste. And billions of animals that never see a blade of grass - book warns of terrifying threat from today's mega-farms.
Goodbye birds. Goodbye butterflies. Hello... farmageddon.