The real winners are...
...883 million animals that are now set to benefit each year from the policies of the companies we have awarded since 2007.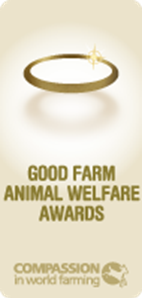 The Good Farm Animal Welfare Awards programme is led by our Food Business team who work directly with major food companies to inspire and influence them to put animal welfare and sustainable food production at the heart of their businesses.
We award companies for their policies and commitments that result in positive impacts on farm animal welfare in their supply chain, by meeting specific welfare criteria.
We have run our flagship scheme, the Good Egg Award, since 2007 to recognise companies that source cage-free eggs. Since then, we have expanded the awards programme to include the Good Chicken Award, the Good Dairy Award, the Good Pig Award, the Good Rabbit Award and the Good Turkey Award.
The Retailer Awards are celebrated as part of the Good Farm Animal Welfare Awards every other year as this coincides with Compassion's biennial Supermarket Survey from which automatic entry to the awards is ensured.  The survey is open to continental European retailers as well as UK-based supermarkets and enables retailers to benchmark their performance against their peers. Find out more about our latest Retailer Award winners here.
Compassion also awards Special Recognition Awards to companies that demonstrate outstanding innovation, commitment or achievement in the field of farm animal welfare. Click here to find out more.
In 2019, Compassion introduced the Sustainable Food and Farming Awards to recognise businesses that are taking steps to produce meat, dairy and eggs in ways that protect, improve and restore wildlife and the environment. Read more here.
In 2020, Compassion launched its Planet Friendly Award which celebrates companies that make commitments to meaningful meat (dairy, fish eggs) reduction targets in their supply, within five years. Read more here.
As a direct result of this work, 883 million animals are set to benefit each year from the policies of all our winners since the Awards began in 2007 – and it is all thanks to your support.