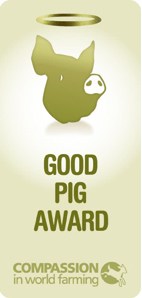 The Good Pig Award launched in 2012 and celebrates companies that use or are committing to use higher welfare pig systems for sows and meat pigs in their supply chain.
More than 3.1 million sows and meat pigs are set to benefit each year as a result of our Good Pig Award and our 2011 'Leadership in Pig Welfare' award winners' policies.
Background
Around 1.3 billion pigs are slaughtered annually for meat worldwide. Over half of these pigs are in Asia, with China alone rearing over 45% of the world's pigs. The next largest pig producers are the European Union (slaughtering almost 240 million pigs a year), United States of America (around 112 million a year) and Brazil (over 33 million a year). In the UK around 9 million pigs are slaughtered for meat annually and there are around half a million breeding sows and gilts (young sows). Although pigs are still kept in backyards and free-range systems, particularly in many developing countries, over half the world's pig meat is produced in intensive systems.
Minimum conditions for the protection of pigs in the EU are set out in Council Directive 2008/120/EC. From 1st January 2013 all holdings must keep sows and gilts in groups starting from four weeks post service to one week prior to farrowing, provide permanent access to manipulable material and a sufficient quantity of bulky or high-fibre food as well as high energy food. All holdings should already comply with the general provisions for rearing pigs, which includes no routine mutilations and the provision of manipulable material. Some EU countries will be non-compliant with the sow stall ban in 2013 and there is a general lack of proper enforcement of the legislation throughout the EU.
Good Pig Award
The awards programme works by recognising and rewarding producers, manufacturers, food service companies, retailers and public bodies for working in a sustainable and responsible way.
Compassion awards companies whose supply chains address the issues of confinement and the need for environmental enrichment (i.e. straw or other fibrous material for foraging and comfort) in breeding sows, and mutilations (i.e. tail docking, castration and tooth clipping) and the need for environmental enrichment in meat pigs.
Click here to see all the Good Pig Award winners.
Find out more