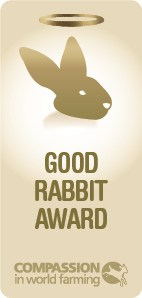 Since 2007, the Good Rabbit Award has celebrated companies that use or are committing to use (within five years) higher welfare systems for does and meat rabbits.
To date, over 9 million does and meat rabbits are set to benefit each year as a result of our Good Rabbit Award winners' policies.
Background
Globally, a total of around 1.2 billion rabbits are slaughtered annually for meat, almost half of which are in China – the world's largest producer. More than 343 million rabbits are slaughtered annually in the EU, making rabbits the second-most farmed species in Europe. Nearly 70% of these are in Italy, Spain and France. The vast majority are raised in industrial caged farming systems.

There is no species-specific EU legislation to protect farmed rabbits and no specified minimum standards of welfare.
Good Rabbit Award
The awards programme works by recognising and rewarding producers, manufacturers, food service companies, retailers and public bodies for working in a sustainable and responsible way.
Compassion awards companies for cage-free rabbit housing and those that omit the routine use of antibiotics.
Click here to see all the Good Rabbit Award winners.
Find out more
To find out more about the Good Rabbit Award visit the Compassion in Food Business website.
Together, we can make a real difference to our food and farm animals. Please donate today.