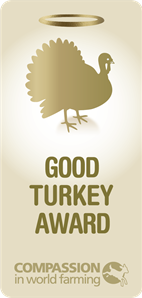 The Good Turkey Award was launched in 2019 and celebrates companies that use or are committing to use (within five years) higher welfare systems for turkeys.
To date, more than 1.2 million turkeys are set to benefit each year as a result of our Good Turkey Award winners' policies.
Background
Turkeys are protected under the general EU animal welfare legislation and are included in the Council Regulation (EC) No 1234/2007 as regards the marketing standards for poultry meat but are not covered under any detailed species-specific legislation.
Main welfare concerns are stocking density, high growth rates, lack of environmental enrichment and inhumane slaughter methods.
Good Turkey Award
The awards programme works by recognising and rewarding producers, manufacturers, food service companies, retailers and public bodies for working in a sustainable and responsible way.
Compassion awards companies that are addressing stocking density, use of fast growing breeds and a lack of environmental enrichment for turkeys.
Click here to view our Good Turkey Award winners.
Find out more
To find out more about the Good Turkey Award visit the Compassion in Food Business website.
Together, we can make a real difference to our food and farm animals. Please donate today.