New documentary marks Dead Zone paperback publication
Launched to mark the publication in paperback of Dead Zone: Where the Wild Things Were (Bloomsbury) on 8 March, the film follows Philip Lymbery, Chief Executive of Compassion in World Farming, from the rainforests of the Amazon to the Midwest plains of America to the palm plantations of Sumatra and the Po Valley in Italy.
This incredible journey reveals how taking farm animals off pasture and confining them in 'factory' farms is draining the world's natural resources and wiping out wildlife. In intensive farms, pigs and cattle are fed crops such as corn, soya or palm and as forests are felled in places like the Amazon and Sumatra to grow them, wildlife gets squeezed out.
Philip Lymbery says: "The BBC Series Blue Planet II has triggered a huge public interest in the natural world and the impact that our own shopping choices – for example, buying drinks in plastic bottles – can have on marine life.
"However, few people are aware that their own daily food choices also have a huge impact on other wildlife thousands of miles away. Every time people choose intensively reared meat over pasture fed, organic or free-range they're helping to fuel the destruction of forests and causing the loss of wildlife, such as the Sumatran elephant and the African penguin as well as wildlife closer to home such as hedgehogs and farmland birds.
"Factory farming is a major driver in the decline of the world's wildlife and thereby ecosystem collapse, which is why to preserve the natural world and future food supplies governments globally need to act and act fast before it's too late."
Agriculture currently occupies half of the Earth's usable land surface, and that proportion is growing by the day at the expense of wild mammals, birds, reptiles, amphibians, and fish.
The new 10-minute documentary, a 2-minute version for social media use, and the paperback version of Dead Zone are essential new tools for Compassion's campaign to help more people understand how they can play a part in saving our planet before it's too late.
All royalties from the book go to Compassion in World Farming.
Dead Zone - Book of the Year for Leading Environmentalists
Renowned environmentalists, Jonathon Porritt CBE and Tony Juniper, chose Dead Zone as 'book of the year'.
Porritt, who founded the Forum for the Future, said:
At long last people are beginning to focus on the multiple costs associated with our meat-intensive diets – and on the imperative of massively reducing our dependence on animal protein. Lymbery's book is playing a crucial in that journey of discovery.
Tony Juniper, President of the Wildlife Trusts and WWF's Executive Director for Advocacy and Campaigns, comments
This book is something of a landmark in the way it makes clear and explicit the important linkages between growing concerns about animal welfare and those of conservation. It highlights not only the scale of the challenge but also the opportunities for positive change in moving towards a food system that enables humans to thrive without destroying Nature.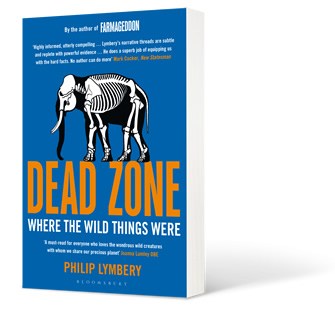 Introducing Dead Zone
When writing Farmageddon with Sunday Times journalist Isabel Oakeshott, our CEO Philip Lymbery wanted to bring the anti-factory farming movement to new audiences.
Exposing the true cost of cheap meat on animals, the planet, and our health, the book was an international hit, published in 12 countries and more to come, with seven reprints. Dead Zone: Where the Wild Things Were is the powerful follow-up to Farmageddon, with the simple message: factory farming harms wildlife too.
A necessary evil?
Dead Zone: Where the Wild Things Were takes us on a journey around the world, travelling from the rainforests of the Amazon to the Midwest plains of America; the palm plantations of Sumatra to the volcanic diversity of Galapagos; the grasslands of England to the Malaysian jungle. In a global safari focussing on some of the world's most endangered species, it exposes a little-known but key factor in their demise: the cheap meat on supermarket shelves.
Some may see intensive farming as a necessary evil. After all, we need to produce more food for a growing global population and are led to believe that squeezing animals into factory farms and growing crops in vast, chemical-soaked prairies, is efficient and leaves land free for wildlife - but as shown in this book, this is far from the truth.
Working with nature, not against it
Dead Zone makes a powerful call for farming to work with nature, and not against it. It reveals the benefits of farming in a way that is good for animal welfare, the environment and wildlife.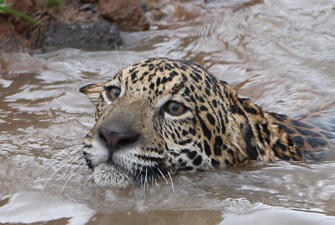 Food production occupies at least a third of the Earth's surface, and the industry is growing by the day. At the same time, the number of mammals, birds, reptiles, amphibians and fish has halved in the last 40 years.  Agriculture and the way we farm animals is at the heart of the problem.
Far from being an uninterrupted series of warnings and horror stories, Dead Zone shows that hope is all around us. Determined champions of a better way are using common sense and ingenuity to pioneer novel approaches that just might help us turn things around before it's too late.
Buy the book
You can order Dead Zone from the following retailers:
You can also order it in-store from most good bookstores.
Remember to leave a review on Amazon once you've read it and let us know what you think!
Also available: Farmageddon in Pictures, the true cost of cheap meat in bite-sized pieces! (use discount code "FARMAGEDDON" at the checkout for 30% off)
Reviews
Praise for Dead Zone
"Highly informed, utterly compelling …Lymbery's narrative threads are subtle and replete with powerful evidence … He does a superb job of equipping us with the hard facts. No author can do more."
Mark Cocker, New Statesman
"Dead Zone" is a must-read book for everyone who loves the wondrous wild creatures with whom we share our precious planet.
Joanna Lumley OBE
A critical plea for a fusion of farming, food and nature to provide global ecological security
Chris Packham
Cheap, factory-farmed meat is killing us and killing the planet – in terms of its impact on our water, forest, soils and biodiversity. "Dead Zone" lays bare those ecocidal connections – in a way that I can guarantee even more environmentalists and animal welfare campaigners will not have thought about.
Jonathon Porritt, founder and director Forum for the Future
Intensive livestock production has been in the spotlight during recent years because of its contribution to climate change, cruelty and pollution. In Philip Lymbery's new book we see that it is also responsible for much of what is arguably an even bigger and more urgent issue: the extinction of wildlife species. Dead Zone: Where the wild things were reveals how from owls to elephants and from penguins to bison our efforts to produce ever greater quantities of cheap meat is helping to wipe out life on Earth. Lymbery is one of those rare writers who combines expertise with storytelling in a read that will transform the way we regard our food choices. A timely and important book.
Dr Tony Juniper, environmentalist and writer
How you can help
Have some meat-free days from time to time
Choose pasture-fed, free-range or organic