In 2017, Compassion launched a new Cage-Free Award which recognises leading food companies that are taking the momentous step of ending the use of ALL cages across their supply chain.
Around 700 million farm animals are still confined in cages every year in Europe alone, which is why caged production is the focus of Compassion's 'End the Cage Age' campaign, aimed at ending the use of all cages in EU farming.
Cages represent the worst elements of intensive farming. They constrict and confine animals, preventing them from displaying their most basic natural behaviours, resulting in poor welfare standards.
Alternative production systems that meet the welfare needs of farm animals do exist and we believe the removal of cages from farming systems will signal a better future for the animals that produce our food.
The Cage-Free Award is a multi-species award, requiring companies to commit to ending the use of cages for laying hens, quail, rabbits and ducks, as well as stalls and farrowing rates for sows, for their full range of fresh, frozen and ingredient products.
Find out more about the criteria for the Cage-Free Award here.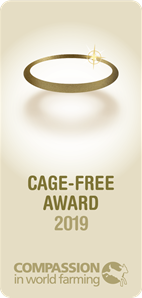 Compassion was delighted to present Ella's Kitchen (UK) with the 2019 Cage-Free Award. They join Waitrose (UK), Marks and Spencer (UK), Pret (global) and Whole Foods Market (US), who received the inaugural Cage-Free Award in 2017.
Find out more about our award winners.